As a diy musician, achieving success involves a lot of guesswork. So at Indiy, we want to give you some helpful tips and guidance to help you reach success. Unfortunately, there's no 100% guaranteed plan set in place. The journey to becoming an accomplished diy musician is unique to everyone and it's not easy. However, the creative freedom you'll achieve is well worth it!
What Is a DIY Musician?
A diy musician doesn't rely on a record label to distribute and market their music. You won't necessarily be the one doing every single task – from mixing to creating album art. However, you'll be in control of your sound, branding and everything else. In short, you're the boss.
Many musicians are solely musicians and not familiar with the business and marketing aspects of the industry. So figuring that out on your own can be tricky and incredibly time-consuming. You won't be stripped of your diy musician title for "outsourcing" your social media marketing or public relations, etc.
Have a Plan and Realistic Goals
How do you measure success? What do you want your social media following to look like? How much music do you want to create in a specific timeframe? Are there any particular venues you'd like to perform in or Spotify playlists you'd like to be on? Do you want to earn profits?!
Keep your overall plan in mind and write out some realistic goals. Then once you accomplish those goals, make new ones. Through trial and error, possibly with help from industry professionals, you'll start to see results. The key is to…
Be Patient
You will almost certainly reach a point when you think your hard work isn't paying off. These are times when other musicians might throw in the towel but you have to choose to keep moving. There may be very little that's motivating you in these low moments, so your determination needs to be stronger than ever.
"The ones who make it are not the most talented ones, they are simply the ones who didn't give up."
Social Media for the DIY Musician
The amount of social media platforms is constantly growing so pick a few and post to them diligently. Make yourself available to your target audience and showcase your personality. Interactive content is best because your listeners feel like they are along for the journey. Ask questions, learn how to live stream and do giveaways or shout outs. If you have time, make a website too or hire a web designer.
Keep track of your analytics and measure your engagement. If your interactions are low, consider using paid ads for a boost. You can even collect data from your socials to compile an email list. Give listeners the option to subscribe to your emails and offer exclusive content: BTS footage, merch, early ticket access.
Distribution for the DIY Musician
You don't need to pace street corners handing out a physical copy of your latest single. The digital era did away with that…mostly. Now, it's easier than ever for diy musicians to distribute music to Digital Service Providers such as: Spotify, Amazon Music or Google Play. Instead of a record label, you have digital aggregators like Distrokid or CD Baby doing the distributing.
The cost is much lower than traditional, physical distribution because there are fewer risks involved. Packaging and mailing fees no longer apply and chances are your music won't get damaged on its digital journey to your listeners. However, with greater ease and accessibility also comes more competition and greater difficulty in standing out from the crowd.
DIY Music Production
If you have the ability and time, consider producing your own music. Digital Audio Workstations (DAW) like GarageBand, Logic, Ableton, etc., allow diy musicians to make high quality music. The French, electronic duoJusticeused GarageBand to create their debut album 'Cross.' Grimes, aka Elon Musk's baby mama, also used GarageBand to achieve musical acclaim.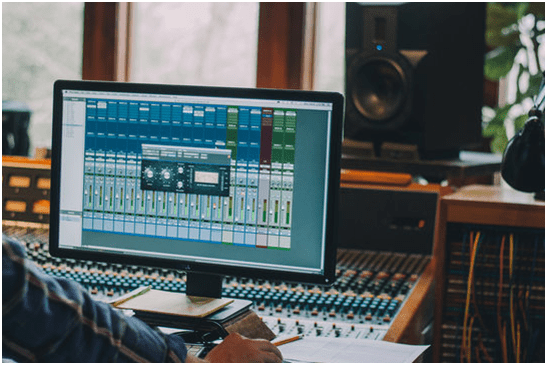 There are several free options available in the way of DAWs. Watch some reviews or tutorials and then experiment for yourself. Take the different features into consideration as some are more limited than others. For example, Audacity does not act as a MIDI sequencer. That means there are no MIDI tracks for you to use with your virtual instruments. If that's something you can't do without, there are plenty other options to choose from.
Learn the Business
As a diy musician, your music is your business and you are the CEO. No one will care about your business as much as you so take a music business course and do some research. The more you know, the less likely you are to be taken advantage of. Reach out to musicians that you admire and get some insight from their experiences.
Many times we wonder exactly how successful diy musicians got to that point in their career. There always seems to be a piece of the puzzle missing and it's unclear how they got from point A to B. Watch interviews and documentaries to get a glimpse behind the scenes and fill in the gaps.
Conclusion
You have all the makings to be a successful diy musician if you commit to the work. Don't let drawbacks discourage you. If one strategy doesn't give the desired result, revise it and try again. Constantly look for new opportunities and put yourself out there.
Invest in yourself and your craft and other people will too. Enjoy the process!