In this article, we will give you everything you need to know about Playlisting and provide a step-by-step guide on how you can pitch songs to Spotify playlists.
365 million people use Spotify at least once a month, according to Business of Apps. There's a great chance that one of them will find your music. But how can they find your music if it's not accessible? Spotify playlists make your music easier to find. If you make your music easier to find you will see an increase in monthly listeners. But not only listeners, followers, and fans!

So, whether you're a big or small artist, you need to get your music in Spotify Playlists. To do that you need to be prepared. You need to write a pitch.
Learn how to write a successful pitch further in the article, or download our free template here.
Click here to download your FREE Spotify Playlist Pitch Template
Read on to find out how to get the most from your efforts!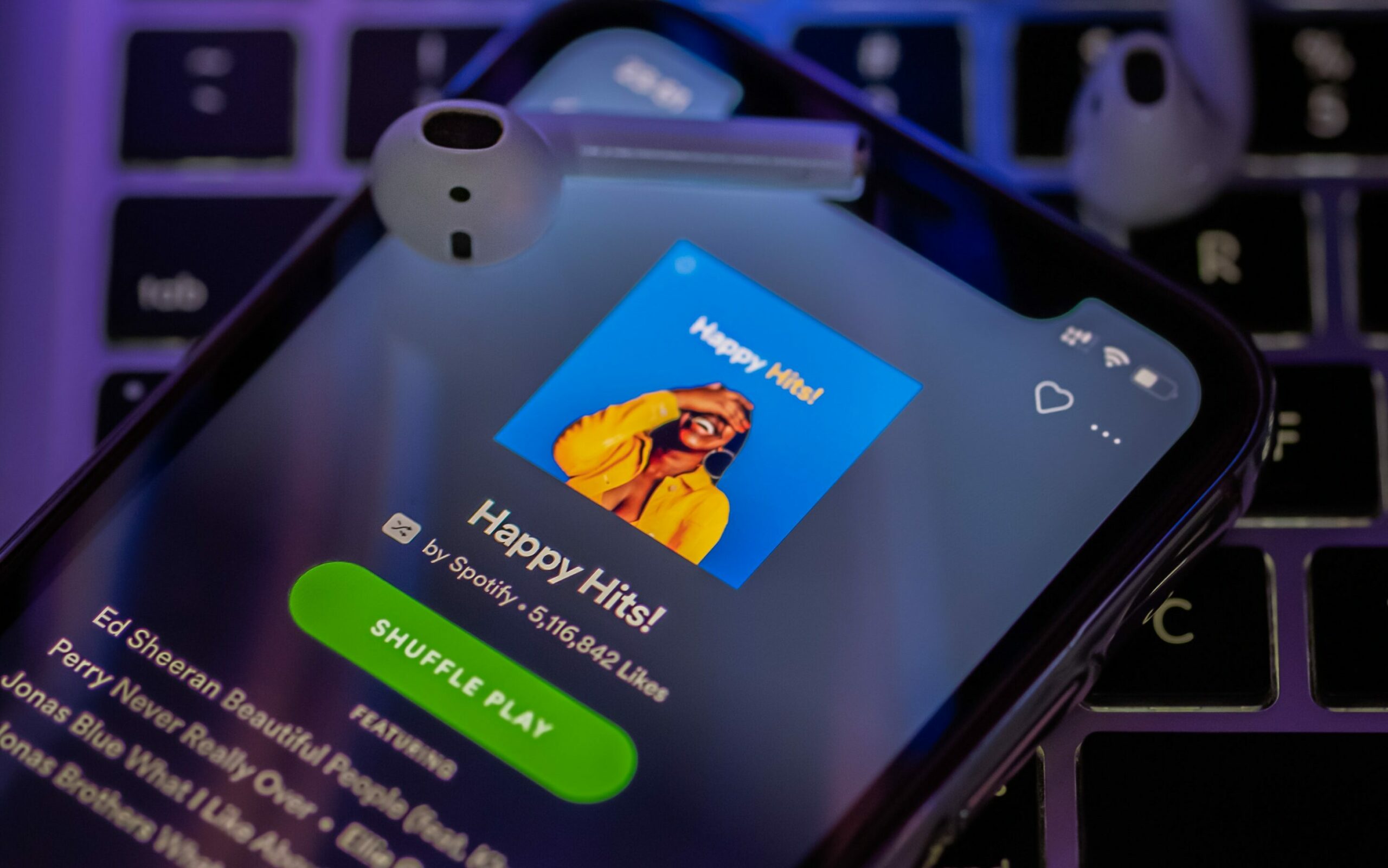 Pitch songs to Spotify playlists
To fully understand the world of playlisting, you need to know what you're playing with. There are 3 different types of Spotify playlists.
Editorial Playlists
Most artists and labels want to pitch songs to Spotify playlists directly. "New Music Friday", "Rap Caviar", and "Good vibes" are all popular Editorial playlists that you've probably heard of. These are made directly by Spotify curators who create playlists under Spotify's branding.
It's free to pitch to a Spotify Editorial playlist so you should be pitching whenever you release a new track!
However, because of its popularity, it can be tricky to get in. This is because Spotify curators go for the most promising artists. But what does that mean?
Here is what curators are looking for:
Artists under a reputable label
Evidence of promotional activities. This includes blog coverage and social media play on FOMO
Quality, those with the best songs win
Monthly listeners. If people are already plugged in it shows Social Proof
Listeners on the track,
Followers on Spotify + social media.
It may take time to build. But, as you progress as an artist and take proactive steps you will get there. Remember it's free to apply so make sure to apply when you can. Keep striving for more and you will be rewarded!
Algorithmic Playlists
Some algorithmic playlists that you might have heard of include "Release Radar", "On repeat", and "Discover Weekly." Put simply, this is when the Spotify algorithm picks up your music and drops it into the relevant places. It does this based on:
Genre
The types of people that listen to it
Followers
+ more.
I recommended pitching 7 days before a playlist release date. By doing this you increase the chance of your song being picked up by Release Radar. This way, you can make the most out of your work.
Algorithmic playlists can be the most rewarding for smaller artists. Once you start playlisting you will notice that you get more monthly listeners than any other type of playlist. Therefore, you need to put in the effort here.
User Curated Playlists
Anyone with a Spotify account can become a curator. This is great as anyone can become a tastemaker. But, it also makes the shady world of PAYOLA. But, that is a story for another day.
With great power comes great responsibility, so if someone with clout has a playlist they should stay on the right side of the law. However, if something has value to someone else, it is human nature to exploit this, and if you do it right it can be beneficial.
If you can always look to build organic relationships with curators. But if you are new to the game and in addition to these relationships there are many options that offer paid services. This can be a good option if you don't have time to personally locate and apply to playlists. But, be careful there are a lot of services that don't necessarily deliver what they promise. Always check the reviews and make sure you get your money's worth.
There are a lot of scammers out there and downright dodgy services. Look for niche playlists in your genre with artists you've never heard of as it normally implies that the curator is accepting offers and going through with them, and they are less likely to be a scammer. Be careful, take your time doing research, and trust your gut!
Indiy members can submit you our free Spotify playlists
What Spotify playlist is the best to pitch your songs to?
So, in conclusion, no one should be ignoring the playlist! Every artist should pitch to Spotify Editorial as it's free. Not only is it free but you have a chance of getting into the most popular and reputable playlists. The more you start playlisting, the more the algorithm is going to carry your song, so keep going!
On the other hand, if you have a budget and want to gain more listeners to a track, Independent/User playlists are a fantastic way to do this. But, you must be aware of scammers.
5 Simple Hacks to help pitch songs to Spotify Playlists
When writing your pitch you need to understand what it's like to be in the curator's shoes. In other words you want to tick all the right boxes. You need to stand out from the crowd. This is your opportunity to show you are a pro and should be taken seriously. So let's jump in!
Optimise your profile
This step is totally free, so there is no excuse.
Optimise your profile so that when the curators look at it, they can easily understand what kind of artist you are and what you bring to the table.
Verify your account
High-quality art/imagery
Profile pic, banner, bio
Add upcoming gigs
Social media links
Add your own playlists!
Bring attention from other places
In addition, don't just stick to playlisting. Bring in attention from other places and cast a wider net to catch more listeners.
Social media – Tiktok, Facebook ads, Twitter
Website integration – make it so it's easy to find your Spotify through your website
Promotional activities that help direct attention to your track
Refine your track
Refine your track and keep up with the pros. Nobody wants to listen to a track that sounds half-assed.
Mixing and mastering – Find an expert to do that for you in Indiy's marketplace!
Get several opinions from different listeners (make sure they don't have a bias)
Build your own Spotify Playlists
Build your own user-curated playlist and include your own music to help boost monthly listeners
Grow a network in your genre
Write the perfect pitch description
This is it. You have found the perfect playlist where your song can fly! But what now? All that's standing in the way between you and superstardom is the pitch!
You need to make sure that the 500 characters describing your track are magical. Make them soo convincing that the curator breaks down in tears and selects your track right away. Now, that might be a bit of an exaggeration, but you really want to get this right.
So be sure to fully explain the track. Dive into the creation process, production, who you collaborated with, what sounds you used, and how it was made. Go into detail on promotion plans so it gives the curator confidence in your value. If you have tons of promotions lined up, they'll know you're taking this seriously and be more inclined in selecting your track for a playlist. In other words, let the curator know you are serious and they can be part of your origin story!
The easy route – Get a pro to pitch songs to Spotify playlists
You can always save time and stress by going over to the marketplace here at Indiy. Here you can get someone with extensive experience to create a Spotify playlist pitch for a reasonable cost. Please make sure to research the seller before purchase to ensure others receive a satisfactory service.
Otherwise, you can take the DIY approach below.
How to pitch to a Spotify Editorial Playlist
Learn how to write a successful pitch further in the article, or download our free template here.
Log in to Spotify for Artists.
Find unreleased music to pitch:
At the top of Home, select PITCH FROM NEXT RELEASE.
On web, you can also pitch from the Music tab under UPCOMING.
Choose a song and fill out the info. The more info they get, the better chance it has.
Important info about pitching music:
Get your music in early so editors have time to listen
See the status Available Soon? Spotify is still processing your release (it can take a few days until it's ready to pitch)
You can't pitch compilations
You can't pitch if you're a featured artist on the song
Editors might pick a different song from your release on their playlist
Anyone with Admin or Editor access can see and edit the pitch
You can edit your pitch up to release day, but there's no guarantee the editors will see the changes
How to pitch to a Spotify Independent/User Playlist
Find the playlist
Find the curators contact details
Contact the user with a small pitch
Pitch songs to Spotify playlists – Spotify playlist pitch template
It's always good to start from a tried and tested starting point. Download the Spotify playlist pitch EXAMPLE and FREE TEMPLATE
How to pitch songs to Spotify playlists – Wrap-up / Conclusion:
In conclusion, it's not just fancy words that make a Spotify playlist pitch successful. It may sound overly obvious, but you have to make sure that your song is the best it can be. There are tons of artists under a label that give them better production right off the bat, and you'll have to compete against them to secure a spot in an editorial playlist. Ask people to listen, review and share your song, ask your mother, your friend, or your ex-friend. Great, even, to increase your chances of being selected. When you know that your song is good, send a submission, cross your fingers, and good luck!