Twinsanity are a hip-hop duo consisting of brothers Ray (Eyekonik) and Giannis (Linkone) Sdoukos. Originally from Surrey, England, they grew up in Athens and have gained notoriety in the streets of Greece for their unforgettable performances, acutely technical rap delivery, and the intense passion they bring to every live show.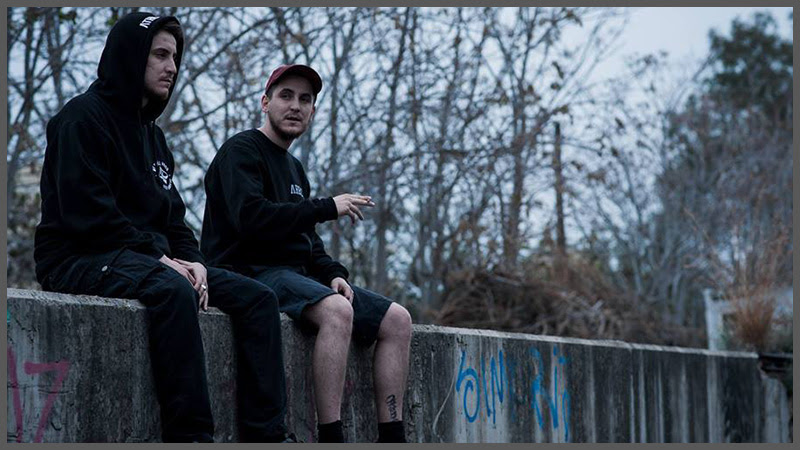 While most of their lyrics are in English, they regularly include Greek verses in their catalogue. This, combined with their ability to effortlessly switch from rapping over hardcore, boom bap beats, to demonstrating their skills over new school sounds, to harmonising alongside live reggae and jazz instrumentation, showcases the diversity of their music and has earned them a loyal fanbase.
Bursting into the underground scene in 2011, they soon became noticed through their busking performances in the streets of Athens.
Their debut LP, 'The Quest', released in 2016 through independent label Bashment Records, immediately positioned them in the forefront of the Greek underground hip hop scene.
Featuring an unusual mix of Greek hip hop heavyweights (such as Taf Lathos and MC Yinka), hitherto unknown street performers (Naal, Babou G), and album art from Billy G (Athens) and Flema (Bogota), 'The Quest' exemplified Twinsanity's passion for forging connections between cultures, peoples, and musical styles.
It was instantly embraced by the local hip-hop community and is nowadays considered an underground classic.
This was followed by an array of live shows across Greece. Apart from playing in a variety of autonomously organised gigs, Twinsanity also served as the opening act for international rap legends such as Foreign Beggars, Rodney P, and The Pharcyde. They have featured in major festivals such as Ruck n Roll, Thessaloniki Hip Hop Festival, Street Mode Festival, Anti-Racist Festival, and Legalize It!, and the list keeps growing.
Always committed to the ideals of anti-racism, anti-sexism, and solidarity against all forms of oppression, they have also participated in benefit concerts for various causes, firmly positioning themselves on the side of social justice in Greece's economically ravaged environment.
Their social presence, combined with their talent and consistency, earned them an invitation to Glasgow for the Breaking the Borders anti-racist festival in 2018, marking their first international performance.
Always looking to build bridges with like-minded artists, Twinsanity collaborated with Bless from the infamous Shahmen in a joint track called 'Mediterranean' in 2019. This international outlook was complemented by their ongoing collaboration with the international hip hop platform Sektion Red through videoclips such as 'Raw Pressure' and 'Osmosis'.
Their second album, 'Vulture Culture' dropped in 2020 from Melting Records and featured contributions from internationally renowned hip hop producers such as El Jazzy Chavo, Moderator, and Ours Samplus.
With extremely technical deliveries over intoxicating, atmospheric beats, a videoclip filmed on location in Scotland and Morocco, and a sold-out 500-copy vinyl run, this second offering cemented Twinsanity as one of the leading up-and-coming groups in European underground hip hop.
While consistently working on new studio material, Twinsanity have remained true to their roots, steadily busking in Athens and developing their craft.
Now an inseparable part of their artistic DNA, this raw street energy and their unmatched, brotherly chemistry accompanies them in every live show, offering the audience an unprecedented and exhilarating musical experience.
Socials
https://www.facebook.com/twinsanitycrew/
https://www.instagram.com/twinsanityofficial/