We caught up with Gangsta Azraell to talk about his music. At Indiy we champion musicians.
Let's get to it...
What do you enjoy most about being an independent musician?
My FREEDOM! lol!

The freedom to say, and do, what I want...

When I want to and how I want to!

Without a label telling me what I can and cannot do or say!
If we were to peek over your shoulder, what does your studio look like? What gear do you typically use?
I usually record in Houston, Tx, on the north side, Greenspoint.

A place called Soundcheck...It's a nice professional studio setup!

Or I go downtown to Corpus Christi, Tx, Metropolis Recording Studio...

If im not recording at my music manager's crib!

But at the moment, I'm setting up a studio at my crib.

The pandemic and the weather are getting out of control!
Do you enjoy recording and production, or do you like performing live and promotion?
I'm excited about the people who I've worked with.

And the possible future collaborations that may come down the line...
How would you want people to describe your latest project in a tweet?
"Hunger and determination!"
Do you plan your music releases, or do you just finish a song and release it?
Once I have a track that is complete!

And also once I am completely satisfied with the sounds of the track...

I give it time, then I release it!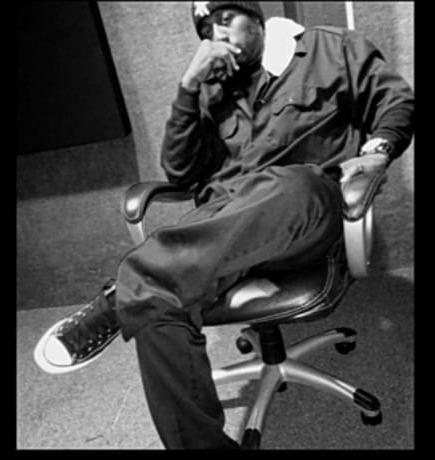 What can we expect from you within the next 6 months? Any releases planned? Future gigs?
I just have to say...Stay tuned to me!

You never know when I'm releasing! Lol!

And right now at this time, I don't have any gigs set up...

But I am looking forward to getting calls for more performances!
Are you planning any videos for your music? Are there any videos we need to know about!?
I'm actually working and brainstorming on a video for my song 'My Time (Dream Big)' you can find it on YouTube and Spotify!

Are there any collaborations, past or future, that you are excited about?
I'm excited about the people I've worked with...

And the possible future collaborations that may come down the line.
What inspires your creative process?
The struggle that I went through, where I come from, and where I'm at...

The struggle my culture goes through, with racial mistreatment, poverty, and police brutality...which I've experienced myself!

Life and reality!

And just times of wanting to make music that makes people want to just have a good time!
What are your top three favorite albums of all time & why?
The Don Killuminati: The 7 Day Theory by Tupac Shakur
I just love how he went in and just let loose!
And anyone that had a problem with him, he let them have it!
Plus he was giving us hidden knowledge on some of his tracks on that album that we needed to know, and understand, and look out for...
but it was stuff that went completely over a lot of people's heads!

Suga Free
Now with him, I have to say two of his albums...
'Smell My Finger' and 'The Resurrection'...
The reason?...I like how he delivers!
I like how he takes reality and tells it in a story from a pimps point of view.
And his style is dope, real talk, being originally from the west (Cali)...
I grew up on his music.

And Fantastic, Vol. 2 by Slum Village
I love the old-school hip-hop genre era lane that they stayed in!
Staying true to themselves and stating a positive message through their music.
I feel like they were slept on!
But to me, I feel like that was a classic album!
Kendrick Lamar reminds me of that group when he is in his hip-hop lyrical zone!
Who makes up your existing creative team?
i.e. photographers, video directors, social media managers, paid media specialists, stylists, hair, and makeup…Name someone who you think deserves a special shout-out?
Really myself! Lol!...

But when it comes to having my haircuts on point, it's my boi, J Dubb and my boi, Mike Todd, at Exclusive Kutz...shout out to them boyz!

Whenever you're in Victoria, Tx, head over to my boi Mike Todd! He'll get you right!

Dressing...I got that taken care of myself!

Also, as in, I know what I look good in! lol!

But I would love to give a special shout-out to the lady of my life...

Belinda Nava!

She knows fashion and what looks right on people...she knows how to turn heads! Lord knows she does! Lol!...

But she would know how to have heads turn to you also if she was to fashion you up...

She's had outfits for me, put in a certain way, that I wouldn't have thought of!

And it would actually look right on me! Lol!

It would be the same actual designer stuff that I would choose to wear, or, any type of name brand, but it's the actual fact that she can see what will look good for YOU! Lol!

And that's why I want to help her, and one of our sons with their own clothing line and store...

That's one of their dreams and passions right now...other than that they love music as I do!

But yea...shoutout to my baby, Belinda!

We're not in the best shape at this particular moment, but what relationship doesn't have its ups and downs?

But lord knows I love her!

We'll get it straight...she's my rock! I can't lie about that!

I'm slowly but surely putting together a loyal, rock-solid team...

So shoutout to my camera and video man, Kendall!

And my boi that's like my brother, J Rizz (GCH ENT.)...

He's been around for some of my music journey, helping to try to get me back in certain positions that I need or should try to be in with my music!

And he has always encouraged me, telling me that I belong as one of the tops...

Once people hear your story, hear your plans, and the heart you have they will start to understand you and love you!

He tells me "You have so much to say..."You can deliver!"

And "You are a leader!"

He just believed in me so much!...

That's how 'My Time (Dream Big)' came about.
Where can we find you on social media?
Facebook: Kennard Johnson (Gangsta Azraell)
YouTube: Gangsta Azraell GCH
And my Instagram is still under construction at this time!