We caught up with Reuben Whetten to talk about his music. At Indiy we champion musicians.
Let's get to it...
What do you enjoy most about being an independent musician?
I like the experience of writing, recording, producing & mixing, and mastering all my own music for free and not having to pay a cent to a single person!

I also like that I can choose whenever I want to release music and however I choose to release it, whether it be a single, on an EP, on an album, and even being just as a somewhat pro recording or a worktape like a voice memo that I recorded on my iPhone.
If we were to peek over your shoulder, what does your studio look like? What gear do you typically use?
I was able to convert a little section of my new bedroom into a home studio!

It's an L shaped desk with my computer in front of me on the right where I look out the window...

I turn left and my keyboard is right there to be jammin' some melody!

My guitar is on a stand next to my microphone clamped onto my desk...

And I have a globe to look straight at Nashville, Tennessee, as that is where I'm going to live once I leave home!

I have a Yamaha PSR-300 keyboard connected to a FORE MIDI adapter to plug into my MacBook Air 2017 13″ laptop.

I use my Audio-Technica ATH-M30X headphones to listen to what music I've created in GarageBand.

I use GarageBand to record, mix, and master all my music, and I upload and release through Amuse.

And the last gear I use is my microphone which is a Zingyou ZY-007 professional cardioid studio condenser microphone plugged into my Behringer U-PHORIA UM2 audio interface.

I do not hire a studio or have a go-to engineer as I do everything from recording to mastering all in my home studio!

I get tips and helpful information from YouTube videos, emails I'm subscribed to, and music blogs.
Do you enjoy recording and production, or do you like performing live and promotion?
I like both!

Recording and production makes my brain work better and smarter...

And my ears pay better attention so I can compare pro quality music to mine!

Performing live is awesome because all a musician really wants is to be up on stage with their fans singing back the lyrics to the songs they worked hard on!

I messed up once on stage, and it was pretty bad...

I had a voice crack while I was singing the first song, and I told myself "You know what? I don't care if that happened. I'm not just gonna walk off stage and not finish my show. I gotta continue. They don't know what other songs I planned to sing for them"...

So I sang my other 2 songs, and I finished the show!

It was pretty good after that!

You can check out my performance of that here (please turn on the captions to understand what I was saying):
Promotion helps me gain a bigger fanbase and helps me be more social since I am pretty shy!

I like to use Submithub to get feedback on my music and promote it to playlists and blogs.
How would you want people to describe your latest project in a tweet?
"Great jam to listen to while sippin' on a root beer!! #rootbeermusic????????"
Do you plan your music releases, or do you just finish a song and release it?
I plan my music releases so I can have time to tell friends, family, and fans about my new music that's coming soon!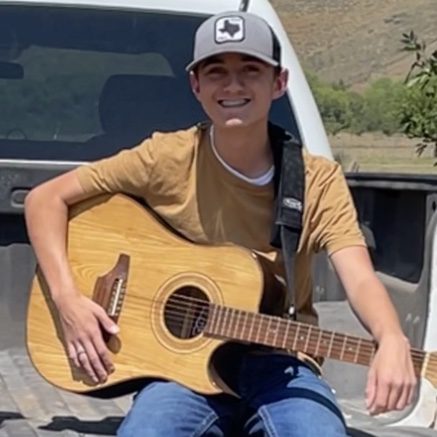 What can we expect from you within the next 6 months? Any releases planned? Future gigs?
You can expect a new single and my sophomore album coming!

I don't know about gigs...

But I bet you there will be an album premiere on YouTube coming when the album is released!
Are you planning any videos for your music? Are there any videos we need to know about!?
I have planned a few videos to come out on the day my 2nd album is released.

I am starting to put up new YouTube Shorts of my unreleased music and recently released music on my channel and I think you'll enjoy them: https://www.youtube.com/playlist?list=PLfhIZ2HOhgYR2X8CbBBeyPIeTcL7CLFOa
Are there any collaborations, past or future, that you are excited about?
My 2 recent singles...

'Texan In Me' was written with a friend from Arkansas.

That song came out in July 2021, and it so far is the only song I've ever released that has reached Nashville,TN.

And 'Dirt, Tumbleweeds, & Boots' was written with my sister.

This song came out on the day after my sister's birthday!

It was awesome writing with my sister and it was a fun experience...

We plan to get this song on a college radio station soon!
What inspires your creative process?
Going outside with my guitar helps me to think for some reason while writing songs!

And listening to songs by other people is an inspiration to me for writing new songs.
What are your top three favorite albums of all time & why?
"Country Things" by Granger Smith

"Greatest Hits" by Keith Urban

And "Strait Out Of The Box: Part 2" by George Strait are my 3 top favorite albums.

I like "Country Things" because it's full of country boy things that I can relate to!

I like "Greatest Hits" because it has a lot of songs I listened to as a kid and I still listen to it often!

And I like "Strait Out Of The Box: Part 2" because it has a ton of George Strait classics that I absolutely love listening to!
Who makes up your existing creative team?
i.e. photographers, video directors, social media managers, paid media specialists, stylists, hair, and makeup…Name someone who you think deserves a special shout-out?
I do basically everything with the support of my family and my friends!

In my paternal family, including extended family, for the past 6 or 7 generations, we've been in the cattle ranching and agriculture business...

I am the first that has been interested to do something serious in the music industry!

I've grown up around my grandpa playing the guitar and the accordion and singing.

I learned to play the guitar and sing, and I thought that if you do both, you must have to write your own songs!

In my maternal family, including extended family, so far of what I know about, music has been in my family for the past 5 generations.

I've heard that some family members have failed at trying to get big in the music industry, so they just have "normal jobs" and play local shows on the weekends in their own bands.

I'm the video director, the social media manager, and the dressing stylist...

My brother, my mom, and my dad all help with taking videos and press photos!

I know more about the music industry than my parents do, so it's kinda hard for them to support me with it!

Pretty much all the equipment I own for music has been either a Christmas present or a birthday present!

The people that deserve a shout-out for what they've done to help me are the following...

My parents...

They gave me my bass guitar, electric guitar, ukulele, classical guitar, banjo, my audio interface, my laptop, my desk, and my chair.

The only things I've actually bought for myself is my MIDI cable for the keyboard, my headphones, and my dobro.

My grandpa on my mom's side has helped me a lot!

He gave me my microphone for Christmas one year and that changed the way I have recorded my music for the past 2 years.

He's bought a copy of every single CD I've sold!

He even gave me the keyboard that my mom and her family use to play at home!

My grandpa on my dad's side gave my favorite guitar and an acoustic guitar pickup so I can record it through my audio interface or play through my amp.

And my grandma on my mom's side let me borrow a guitar that is perfect for writing songs!

It's my go-to guitar because I've written so many songs with it...

She's also bought a copy of every single CD I've sold!
Where can we find you on social media?
My website is https://reubenwhetten.wixsite.com/home where you can find all the links such as YouTube, Bandsintown, and more!