Want to know which are the best apps for songwriters that every music maker should have their hands on?
Songwriters and music makers have many apps available to them to help with their creative process. These apps can be used for recording, songwriting, mixing, and more. Here are the five best apps for songwriters and music makers.

The technological landscape appears like it's accelerating annually and it is!
Due to these rapid changes and the modern world being ever more about the internet, the music industry has been inundated with new digital marketing tools and techniques.

Music has always been an important part of the entertainment world and the media.

The industry has seen many ups and downs throughout the ages but it continues to survive and will survive forever.

With amendments and innovations in technology, music has come a long way including the way in which we record and publish our songs.

We are now living in an era where you and every other musician and songwriter can make professional music from the comfort of your own home and then publish it online for the world to hear!

These innovations have not only changed the way we consume songs but it also has changed the consuming behaviour of your fans when it comes to your music.

There are so many digital tools and apps out there, you're probably not quite sure where to start.

Over the past few years, smartphone apps have become more and more popular amongst musicians, and that's why we've made a list of helpful apps for artists and songwriters to help your creative process become easier and more efficient…

Let's dive in!
Songwriter's pad
Dealing with writer's block? Know you're not alone in this. With Songwriter's Pad, you're able to create lyric ideas based on different categories of emotions. If you're looking for sentences or rhymes that are sad or joyful, this app will help you find the right lyrics and words that stick. 
The benefits:
Simple interface
Words and sentence ideas
Syncs between different devices
Garageband
Garageband is pretty well known to Mac users. But as a touring musician, you'll probably want to travel light, so how about this app for spontaneous inspiration?

With this free music creation tool, you can quickly create songs with a multitude of instruments all in your pocket on your iPhone or iPad.
Unfortunately, GarageBand is not available for Android.
The benefits:
Smart instruments you can take everywhere in your pocket
Multi-take recording
Audio units
FourTrack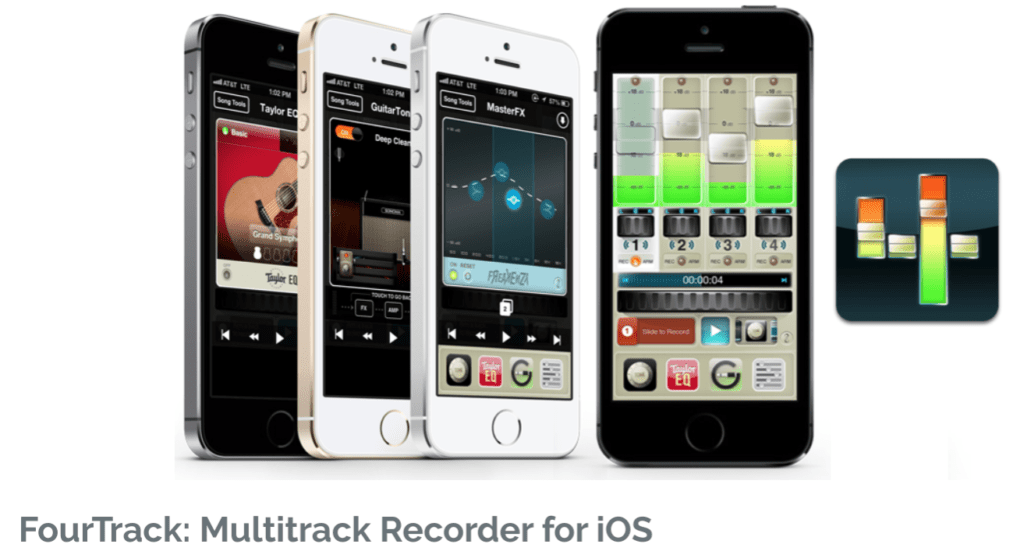 FourTrack is the answer for all your magical moments of inspiration and creativity.

In the moment, when inspiration hits, you'll want to record it, without letting the inspiration pass and go to waste.
This app is a simple-to-use four-track recorder that helps you start creating demo recordings.
FourTrack contains a number of useful mixing plugins as well: an EQ, compressor, and limiter. 
The benefits:
CD quality recording
Responsive touch controls
Easy import and export
Splits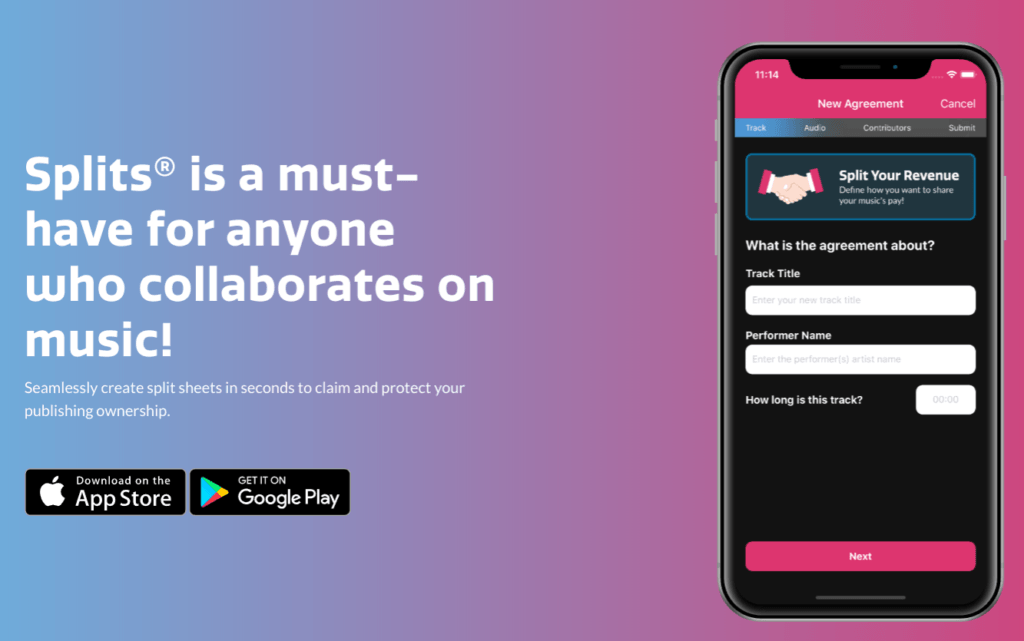 Splits is one of the must-have apps for songwriters who collaborate!

Jeopardized metadata is a huge problem in the music industry, but Splits can help you to make sure the ownership of the metadata stays with you and those who you choose to collaborate with.

With Splits, songwriters can keep track of their contributions to any song they work on starting from the studio to generating contracts to constructing the splits.
The benefits:
Track necessary information
Contributors and splits easily to select
Agreements can be generated between all parties
Suggester
Stuck with music composition? Here's an app that helps with writing chord progressions.

Suggester allows you to create progressions, including chords and secondary dominants.
It also includes various types of scales to figure out one-of-a-kind melodies.
The benefits:
Easily finds chords that go together really well
Easy and efficient to use
Includes Roman numeral notation
Apps for Songwriters – Wrap up
In conclusion, these 5 apps are great tools for songwriters and music makers of all levels of experience. Whether you're a beginner just starting to write your first song, or a seasoned pro looking for new ways to improve your workflow, there's an app here for you. So what are you waiting for? Get started today with Indiy!