I speak with musicians day in and day out. Something that is common is; the disconnect between where creators are now, and where they want to be. Everyone wants to be Beyoncé with 25 million subscribers on Youtube. Drake with 26.9 million subs. Or maybe Ed Sheeran with 52.3Million. But how many YouTube Channels have over 1k subscribers?
Only a very small percentage have over 1k subscribers. In order to be successful on YouTube, it takes a lot of time, effort, and consistency. You need to be creating new and engaging content in order to grow your audience. Do that, then you have a chance at becoming one of the few YouTube channels with over 1k subscribers.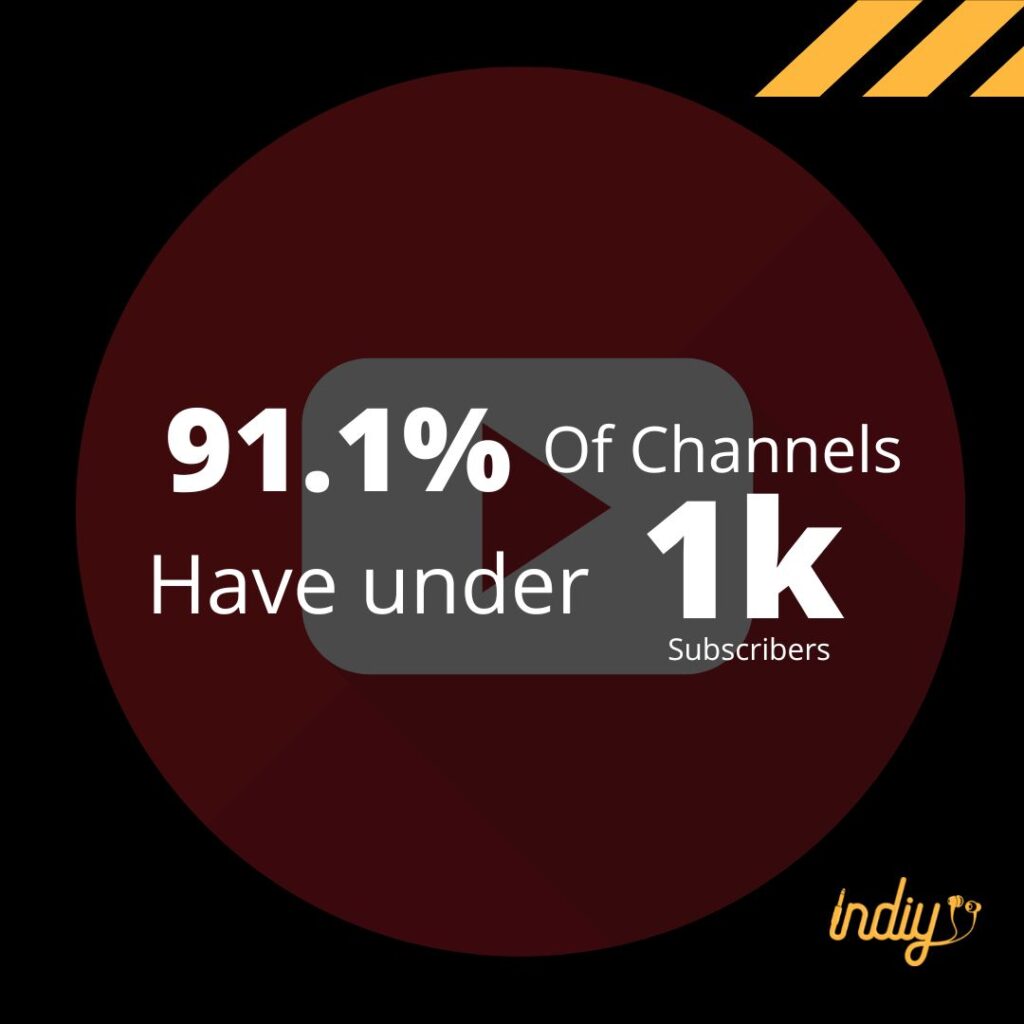 91.1% of YouTube Channels have under 1k Subscribers
Once you know what you are working with, you can put one foot forward. Make a plan you can achieve and take action!
YouTube has 2.6 billion monthly active users. That is about 1 in 3 people from the entire Earth's population of 7.9 billion people, making YouTube the largest video sharing site and streaming video platform worldwide.

Tim Queen
How many youtube channels have over 1000 subscribers
Let's get right to it. In 2022 10.1 million YouTube channels have at least 1,000 subscribers.
What percentage of youtube channels have 1000 subscribers?
All successful YouTubers have one thing in common: they all started with less than 1,000 subscribers.
The exact percentage of YouTube channels with over 1,000 subscribers is 8.86%. This means if you want to be successful, you need to be willing to put in the hard work. But it also means you have the ability to be in the top 10% of all channels!
You can't just start a YouTube channel and expect to get thousands of subscribers overnight. It takes time, effort and consistency to grow a channel. But if you make a plan and stick to it, you can definitely reach the 1000 subscriber milestone. Once you hit that number, it'll be much easier to continue growing. Therefore, reaching even more people with your content.
If you are serious about reaching the 1k milestone I highly suggest you check out the following articles:
The importance of reaching 1k YouTube Subs
One of the advantages of having 1,000 subscribers is that you can use the YouTube Community tab on your subscription page to share social media posts on your YouTube channel.
After you have 1k subs and at least 4,000 hours of watch time, you can join the YouTube Partner Program.
When you've monetized your channel, you get YouTube Creator Support, which will allow you to communicate with YouTube's employees directly. This is really important if you want to resolve any problems with your channel. You also have access to Channel Memberships, Super Chats, and Super Stickers. All of these can make you more money with your YouTube channel.
Check out 10 steps to reach 1k subscribers on YouTube and How to grow your YouTube Channel
How many youtube channels have 100k subscribers
The number of YouTube channels with 100k subscribers has increased in recent years due to the platform's massive popularity. YouTube has become the go-to destination for people wanting to watch videos online. As a result, creators have responded by producing more and more high-quality content.
There are 321,100 YouTube channels with at least 100,000 subscribers. Which is 0.28% of all YouTube channels or around 1 in 350. Reach this milestone and YouTube will give you access to a YouTube Partner Manager. You can think of a Partner Manager as your personal YouTube guru that can help grow your channel.
You can also get a Silver Play Button.
How many youtube channels have over 1 million subscribers
Less than 33K YouTube channels have more than 1 million subscribers. 32,300. That is 0.028 percent of all YouTube channels or about 1 in 3,600 channels. Even if only a few YouTube channels reach a million subs, these are the ones that stand out.
They have a loyal following of viewers and fans that find their content relevant and engaging. This is where you really start to be successful. This is a huge accomplishment that requires a lot of hard work and dedication. However, these channels also provide real-world opportunities for their creators. For example, many YouTubers have used their platform to launch successful businesses and even land major acting roles. But they all create meaningful connections with their fans.
Wrap up
In conclusion, getting 1000 subscribers on YouTube will catapult you into the top 10% of all channels. Make a solid plan and take steps. Get to 1000 then go to the next milestone.
Remember if you want to be successful on YouTube, you need to be willing to put in the hard work. Only 8.86% of channels have 1,000 subscribers, it's clear that it takes dedication and time to grow a successful channel. So if you're up for the challenge, go create some great content and build your audience!