Upon first hearing the term "A&R", what springs to mind?

You might automatically make the connection with the word "music industry" And you'd be absolutely right!

Maybe you link it to the word "record label!" Again you'd be right!

As through time, many people have worked at record labels as reps, including A&R's.

In this guide, we're going to take you through what exactly an A&R is, and what it means in today's digital age where pretty much everything has moved online!

So let's find out…
What is an A&R?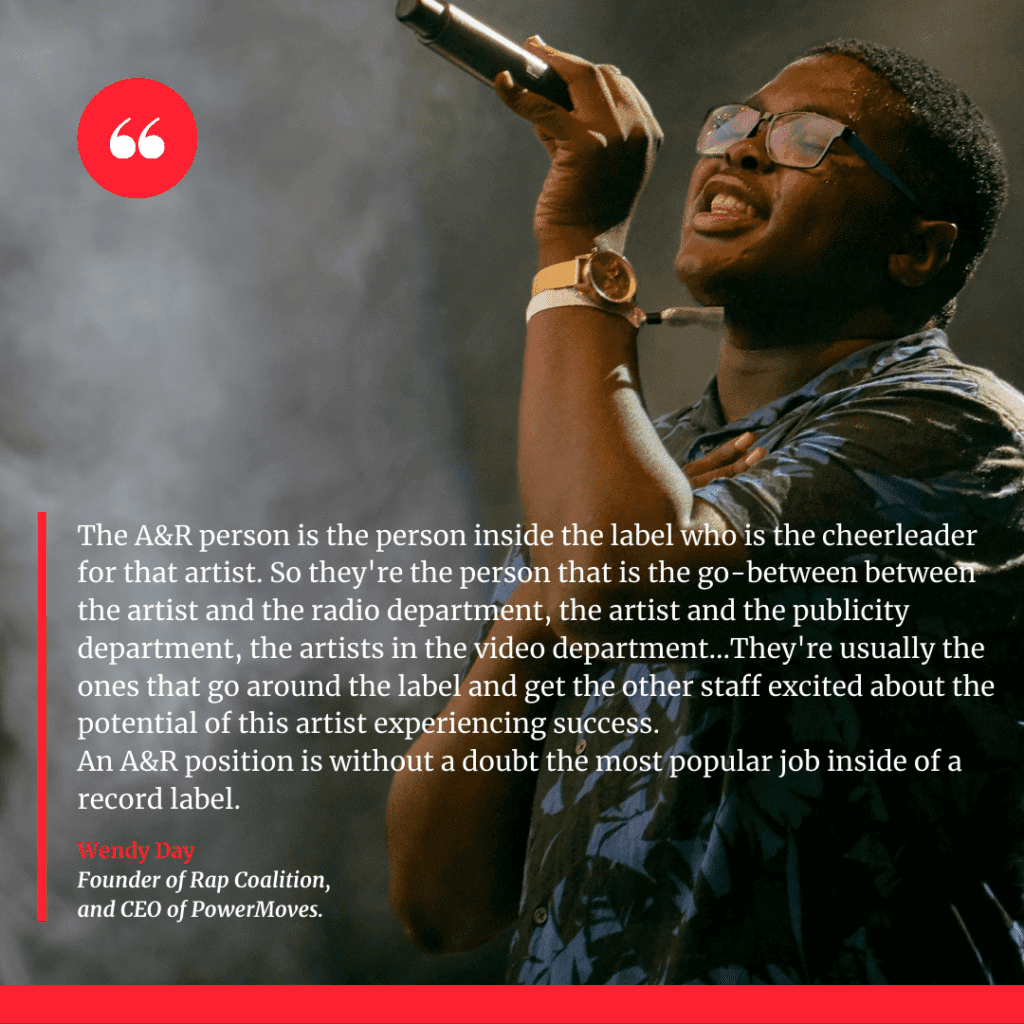 A&R stands for Artist and Repertoire
Traditionally an A&R is someone who acts as a scout for a record label, seeking out musicians, songwriters, singers, or bands whilst also being responsible for overseeing the artistic development of the individual(s).
Their main role is to be the communicator between the artist and the label.

They help the music artist or band by leading them along the right path to success, through liaising and making the necessary connections that the artist or band needs to progress.
What does an A&R do?
A&R's are the facilitaors of the music world.

And being one involves quite a range of tasks that requires the person to be very pro-active.

The full scope of an A&R's responsibilities goes far beyond the recruitment aspect.

They are essentially wholly responsible for developing and nurturing the artist or band; in the same way that a plant can bloom when taken care of…

A music artist can too under the wing of a good A&R person!
The Duties of an A&R
As someone who is solely responsible for seeking out, signing, and developing new musical talent, there are a lot of specialized qualities and skills involved in being an A&R.

The role can include supporting the artist(s) with even the very basics such as helping them to create or find their brand identity.
As well as overseeing the entire recording process of any music project the individual or band wants to put out – choosing and booking a studio; finding a producer, engineer, mixer, and mastering engineer; hiring additional studio musicians if needed.
Once a project is complete it is then up to the A&R to set up something called a listening party so the artists target audience can hear the sound of the artist(s) that they're working with.
This is why sometimes A&R's can be found hanging around in recording studios with artists!

And it's often why sometimes people can confuse them with the product manager within a record company.

Being great as an A&R includes having the following skills:
Understanding the music industry and a passion for music

Great networking skills

Organisation & being able to work within strict time constraints

An ability to multitask different projects at the same time

Identifying new trends within music including via analysis of data
Famous A&R's
Pete Ganbarg is a Grammy Award-winning music business executive who is currently President of A&R for Atlantic Records. In this interview, he tells us:
The most important thing about an A&R is not about what I think but about what the public thinks and my knowing that everything that I'm doing is going to be for them. Not for me.

Pete Ganbarg – President of A&R at Atlantic Records.
Check out Chris Anokute's rise as a successful A&R right here in this interview:
How do I become an A&R?
As an A&R you would be critical to the discovery and the process of developing a musician, artist, or a band.
It will be your role to be the main communicator between the artist and the label if required.

And you would also be the main communicator between the artist and the label if required.

As an A&R you would be critical to the discovery and developmental process of a music artist or a band.
Is A&R still relevant?
Despite the arrival of the internet causing a huge change in the way in which the music industry works today…

The position of an A&R is still a very important. It is an extremely relevant role that exists and is definitely a job that still needs doing!
Today, finding and signing new talent is very much the role of an A&R as it's always been; however, the way in which artists get signed has changed.

Labels still have the budgets to sign artists but for an artist, the actual process of getting signed has become a lot more difficult.

Because in today's online world of streaming and social media platforms, it's a lot to do with numbers!
And more specifically…Statistics. This is why it's important to know and understand them.
The role of A&R has three main responsibilities: Finding talent. Overseeing the recording process and assisting with marketing and promotion.
You can become an A&R with Indiy and receive free training here
Invite your network to join Indiy or head to our home page to take a look at some of the amazing services being offered to help you progress on your music career journey.

More DIY tips and information about getting started in the music industry can be found by downloading our free ebook today.