Print music royalties are a payment that composers and songwriters receive for the use of their music in print. Most print music royalties are paid to the publisher, but some are also paid to the composer or songwriter. Royalties can vary greatly depending on the type of print media used. But they generally range from a few cents per copy up to a few thousand dollars per copy.
Songwriting income can come from a number of sources. Here we're gonna give you the rundown on print music royalties…
Print Music Basics
Before we begin you should know that there are many royalties such as:
Master – Also known as sound recording royalties. These are traditionally paid to record labels and recording artists.
Mechanical – These are paid to a songwriter whenever a copy of one of their songs is made. For instance, when a record label presses a CD of your song, you are due a mechanical royalty.
Public Performance – paid whenever music is performed publicly live or a recorded copy.
Synchronization – These are paid to songwriters and publishers when a song is "Synced" with images.
And then there's Print Music Royalties!
What Is Sheet Music?
Sheet music is a form of musical notation that tells musicians what notes to play and how to play them. It also includes the melody, lyrics, and chord symbols for a song. Sheet music can be printed out or viewed on a computer or tablet.
In order to create sheet music, a composer first writes down the notes for a song on paper. The notes are then arranged into measures, which are typically 4-8 beats long. Once the melody and chords have been written down, the lyrics can be added.
Sheet music can be used by anyone who wants to learn how to play a song. Musicians can use it to practice at home, and bands can use it as a guide during live performances.
Sheet music is the printed music of a single song. Containing notes, arrangement, lyrics, chords, and other annotations used by composers to communicate information about the piece of music."

– The Modern Musician
How are Royalties paid?
Print royalties are paid for sheet music and folios. They are generated based on the exclusive right to distribute copies of the copyrighted material.
These royalties are paid to the composer, lyricist, and publisher of a piece of music whenever it is printed. When a song is used in a commercial or other mass-media production, the royalties can be quite substantial.
In the U.S.A, print licenses are usually non-exclusive and limited to three to five years in duration.

Sheet music of a single song, pays publishers around 20% of the marked retail price. So if the retail price is $3.50 roughly 70¢ would go to the publisher.

Royalties for folios (a catalogue/collection of songs) are paid at around 10% to 12% of the retail price.
Who gets paid?
A successful musician should be entitled to acquire income from all forms of royalties. However, this often isn't the case with print royalties. Like many of the other royalty, types are mostly always collected by music publishers on behalf of their songwriters.

Check out this paragraph from D*ck Weissman's book 'Understanding the Music Business'…
As publishers look for new ways to make money from the songs they control, we may find that the print music royalty will end up having more importance.

In 2002, Robert Burnett wrote in his book The Global Jukebox: The International Music Industry, according to the music industry, print music revenues were $415 million with The US accounting for 35% of the total worldwide. Which breaks down to $167 million in print royalties in the US alone!!!
Worship Music
Now when it comes to Religious music (or sacred music), churches do not need a performance license to play or perform copyrighted music during worship service – Churches qualify for an important exemption in the U.S. Copyright Law (section 110[3]).

However, Print Music Royalties and licensing still do exist, even in the world of spirituality, Richard Weissman explains: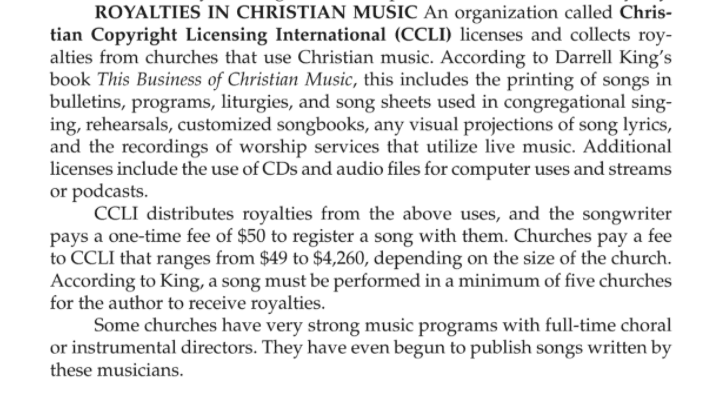 Maybe Kanye is onto something with his Sunday Service!!!
Thanks for reading and Good Luck on Your Music Journey ✌️