So what exactly is SoundExchange and how does it work for musicians?
If you have just started making music or have been involved in the industry for some time, chances are you have heard the name Sound Exchange. But is what you know correct and your understanding accurate?
Let's Jump Straight in!
What is SoundExchange
SoundExchange was created to provide royalties to artists and copyright holders for music played on digital radio. They have also become a powerful advocate for musicians, fighting for better pay and working conditions for musicians.
It is a non-profit performance rights organisation that collects and distributes digital performance royalties on behalf of its members, which include record labels and artists. SoundExchange also operates a digital registry of sound recordings.
They primarily collect and distribute digital performance royalties for recording artists and record labels.
SoundExchange collects digital royalties from three main sources:
Non-interactive webcasters – These are service providers that do not allow users to pick and choose what they listen to. Pandora is an example of a non-interactive webcaster.
Satellite and Digital Cable TV – When a song is played through digital cable and satellite television like Music Choice and Muzak, SoundExchange collects and distributes the royalties.
Satellite Radio Services – Sound Exchange monitors satellite radio, like SiriusXM and allocates the money to recording artists rights accordingly.
Do you need to use SoundExchange?
There are two parts to a song the composition and the sound recording.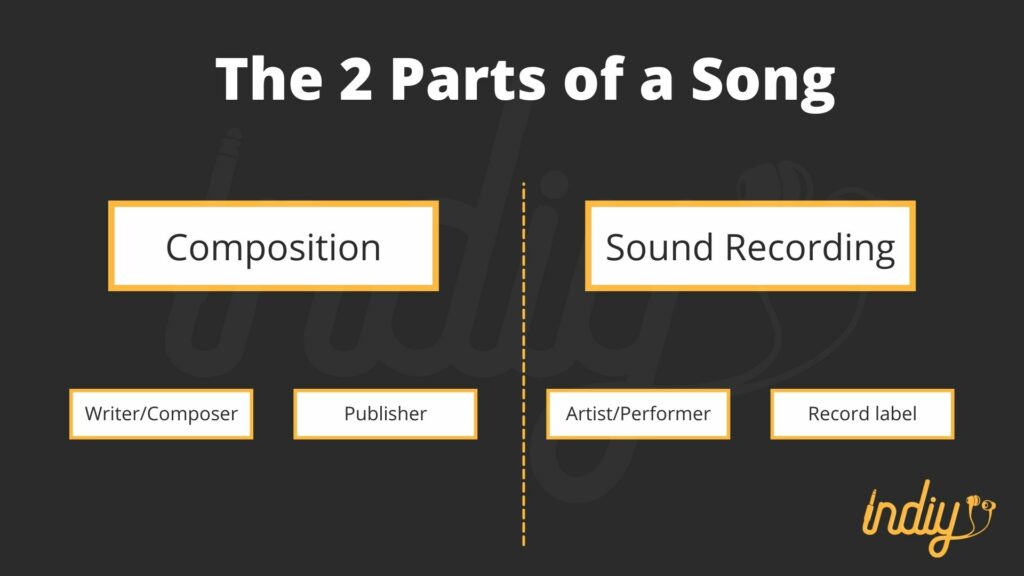 The composition relates to those that write a song and are usually represented by a Music Publisher
A sound recording is the actual recording of the song.
Take the example below
Motown production team Holland–Dozier–Holland wrote the song. They and their publishers benefit and collect royalties for both of the recordings.
The Motown release of The Supremes took place in 1966.
The Phil Collins version was released in 1982 and the record label for the release was Virgin Records in the UK and Atlantic Records internationally.
In this example, SoundExchange is not for the writers Holland–Dozier–Holland. Instead, it is for the artists and labels. So this means Supremes & Motown, and Phil Collins, Virgin Records and Atlantic Records for their respective recording.
If you are a modern DIY musician, chances are you represent the Publisher and the Record Label. However, even if you write and distribute music yourself, it doesn't change the fact that you are, the writer, the publisher, the artist and the record label.
In order to receive SoundExchange royalty payments, you will need to register directly you can register for SoundExchange here
How do I use Sound Exchange?
If you are an artist or copyright holder you should register online to receive royalty payments that may be due to you. You should do it online for free here
Do I need SoundExchange?
If you are a performing artist or record label you should register with Sound Exchange.
However, it is important to note that many labels and Music Publishers have deals in place that bypass SoundExchange.
Do I need SoundExchange if I have ASCAP?
Sound Exchange collects and distributes royalties for featured artists and the sound recording owner. ASCAP collect and distribute royalties for songwriters and publishers (composition). Therefore, ASCAP and Sound Exchange offer different services.
Do I need Sound Exchange if I have BMI?
Can you be a member of SoundExchange and BMI? BMI collect and distribute royalties for songwriters and publishers (composition). SoundExchange collects and distributes royalties for featured recording artists and the sound recording owner. So, BMI performs a different function, if you are a songwriter you still need BMI or a similar association.
Does Spotify pay SoundExchange Royalties?
Sound Exchange doesn't deal with royalties for on-demand streaming services like Spotify and Apple Music.
How much do you make from Sound Exchange?
The rates get set by law and pay about one-fifth of a cent in the USA for each play. But it is very important to note these royalties are in addition to the royalties paid to societies like ASCAP, BMI, SESAC and PRS in the UK
Is there an alternative to SoundExchange?
At this time there is no alternative for SoundExchange
Wrap-up
In conclusion, SoundExchange is an important tool for musicians because it helps them to receive payments for the use of their music.