A piano VST is a much-needed part of music production.

The piano is a key instrument!

There are tons of piano plugins available online, but most of them will set you back some money before you can start getting creative!

So, we've put together this list of the Top 5 Piano VST plugins that you can download at no cost! Yes, that's right! Absolutely free!

Because even with a FREE Piano VST, you still can produce some great music!

So whichever one you like the look of or sound of, head on over to the download page…

And get to creating some amazing music!
.
.
Keyzone Classic delivers incredible tone with an array of settings that are completely changeable by the user. It's a very simple to use plugin in which you can change settings such as the ADSR, Reverb, Volume, Velocity and LFO settings.

Whipped Cream Sounds
The Keyzone Classic by Bitsonic is a Free Piano VST Audio Plugin.
This sample-based piano plugin operates on both Windows and Apple OS systems and it includes:
.
Piano from Keyzone 1
Yamaha Grand Piano
Steinway Grand Piano
Basic Electric Piano
Rhodes Piano
.
.
One of the best free pianos vsts around, probably better than many commercial piano plugins or sample libraries.

Reviewed By sorohanro on KVRaudio.com
The Piano One from SoundMagic comes from the Yamaha C7 concert grand, a true workhorse in the professional piano world.

This piano VST operates on both Windows and on Mac.

Features include:
.
Neo Piano Hybrid Modeling Engine
Yamaha C7 Sound
Note duration is limited within 18 seconds
Some features are limited such as Sympathetic Resonance and noises.
.
.
Dead Duck presents this awesome piano VST plugin, The DPiano-A 'acoustic' Piano which comes in the Free Instruments Bundle: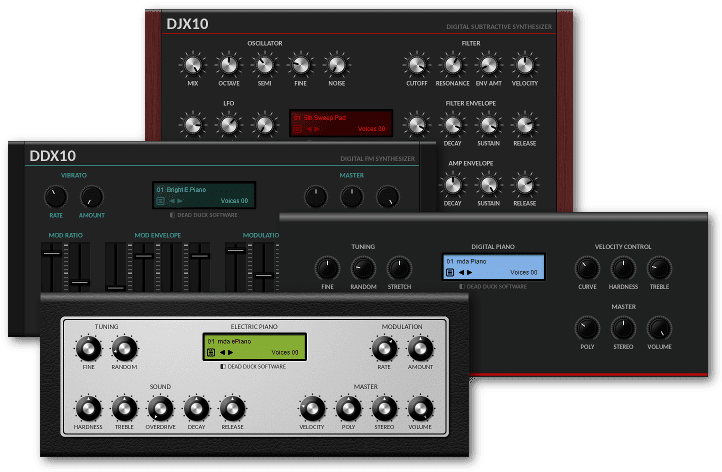 The Free Instruments Bundle includes updated versions of all four VST classics, so when you download the bundle including the DPiano-A 'acoustic' piano, you will also get:
.
DJX10 subtractive synth.
DDX10 FM synth.
DPiano-E 'electric' piano.
.
.It is available in VST 2.4 format for Windows 32-bit and 64-bit hosts.
.
.
This sample bank is an absolute staple for any producer looking to 'polish' their sound and is a beautiful sample library of a Steinway Model B grand piano. If you're looking for a sound with a bit more colour and a little less versatile, then go with Ivy Audio's Piano.

Whipped Cream Sounds
The 'Piano in 162' – A staple of classical and orchestral music is a sample library of a Steinway Model B grand piano, available in Kontakt, SFZ, and Korg Kronos formats.

This VST requires a full version of Kontakt to run. If you're looking for a completely free option, download the SFZ version and load it into a free sampler like Plogue Sforzando.
.
.
This is one of our favourite Piano VSTs, purely because of the sound. It's one of the closest to out of the 5 to a real-sounding Piano but lacks the option to alter the sound (like ADSR, Reverb, etc). If you can ignore that then you're on your way to some incredible sounding productions!

Whipped Cream Sounds
The Versilian Upright Piano is a clean sampling of an upright piano designed as a light-weight sketching piano developed by Versilian Studios.

This Piano VST includes:
.
3 velocity layers with 2 RR
sampled in tritones with a pair of wide, close mics
Full delays of up to 30 seconds were recorded
.
With a broad dynamic range and a bright, clear tone, the upright can still display a soft side when needed.
.
Hopefully one of these piano VST's listed above can help you as a musician, artist, or sound producer wanting to get creative.

At Indiy, we believe artists should have complete ownership of their content.

We are the online DIY marketplace for musicians, the place to buy and sell your music services.

You can find and securely hire the right professionals to help you progress on your music career journey.

Get your music heard and build your audience with us, head to our home page to take a look at some of the amazing services being offered.

Thanks for reading and be sure to check out some of our other articles for some great tips and tricks on how you can improve, grow your craft and develop as a music professional ✌️