Promoting Yourself & Your Music Online
It can be very helpful for you to know the ins and outs of all the things you should be doing and sharing on social media to kick start your music career & get the most out of all the platforms out there.
It can be a minefield out there, with all the real-time platforms available to you, so rather than attempt the impossible…diving straight in and promoting your music through every single channel available…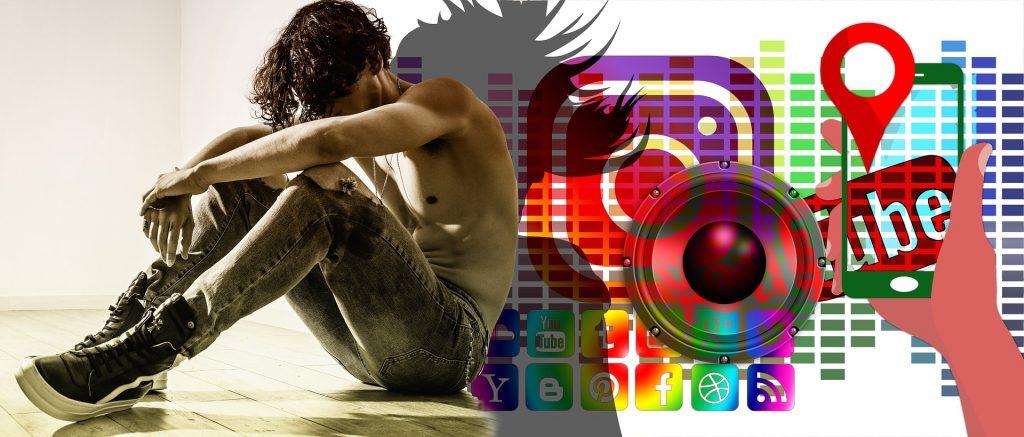 First take a moment to simply pick one social media platform where you can begin your process.
How do you get new ideas of ways to promote your music online?
Take Facebook, for example, if you jump online and start copying what you see, there's the potential to do way more damage to your brand than it is good.
Basically you don't want to be doing anything online that could be harmful to your music career.
Imagine being an artist spamming your song onto people, it's just not a good look and it will make people switch off to you.
U2 are not people to emulate!
What you want to be doing is creating fans! not customers…
And you certainly don't get them by forcing your music onto them.
As you probably know, Facebook is by far the biggest social network of them all, and it is often seen as the standard for where you should be online.
Begin by creating yourself a profile.
The best type of profile is a complete one, so basically you need to complete all the fields available.
Fill out every single piece of contact information and then you can set it up to be more private before you start adding people if that's your preference.
On Facebook you do need to enter your proper name, as creating a fake account goes against the terms.
Your real-world friends who are on there will show up as suggestions simply by giving them access to your e-mail account.
But you'll need to start engaging with new people who follow accounts and pages that are positively motivating, educating and enabling you in your craft, for example:
If Facebook doesn't work as the main platform for you, use a different one, Twitter, Instagram, or Reddit for example but the point here is basically to reach out directly and make contacts.
You can click here for an article on how exactly to make your Facebook profile more private once you're ready for that.
But you'll want to be discoverable seeing as the whole aim of this networking exercise is to put yourself out there!
To maintain your social media presence, you do need to post often and everywhere. This probably means that you may find yourself going back and forth between social media sites.
One of the ways to handle this problem is by syncing your social media accounts so that you can share your content across all your accounts – with just one post and click.
For example, you can link your profile or your page to your Twitter account so that you can share your Facebook posts on Twitter and vice versa…
You can send a tweet out on twitter and have it show up on your Facebook.
Figure out what's best for you and what works for you.
Facebook also lets users create "pages" for different types of groups and organizations, separate from your basic profile page.
Click here to check out an already established music artist page, Rihanna, to get an idea.
For your main profile, on whichever platform, pick an appropriate profile photo and a good cover photo (if required) and tailor it to how you want to be seen.
Perhaps using the same profile photo across platforms will just keep it consistent and help remind people it's you.
Keep them all updated, when you change one, change them all.

Next focus your time and energy connecting with a few people who are actually already doing what it is that you want to do.
Engage with peers and ask if they are open to sharing what has been working for them.
Although this can seem a bit scary, once you've made a start you'll find that talking to people that have a similar interest, passion and drive as you, can be exponentially rewarding.
The people that you surround yourself with are going to impact your career, if you're surrounded by people that love music, people who are like-minded about networking and aren't afraid to put themselves out there like you are, success is the ultimate end goal.
Time is obviously a big factor so don't spend too much of it focusing on the people that aren't getting back to you or aren't responding.
Also, remember the people sending you friend requests, wanting to add you and connect with you are seeking some form of validation so it's okay to question what type of connection that might be.
Now, before you max out your Facebook profile at 5,000 friends, be careful about who you accept as a friend as it can affect how powerful your profile will be.
It's important to keep yourself safe online by not revealing any personal information, for example, your home address is something you don't need to give out to an online stranger, and when the time comes for meeting face-to-face…
Always meet up in a public place during daytime hours, unless it's an evening event or something, then perhaps you might like to bring a friend along with you or at the very least let someone know what you're up to and where you're going.
Don't be scared to talk to musicians who have around the same following as you.
By reaching out and talking to those who are already doing it, you can compile a list of the ways that have been tried and tested by other successful artists.
If you manage to get some tips and tricks, then you'll want to sort them into two piles for yourself; the ones that work and the ones that don't.
At events and online…
Start off by letting them talk about themselves and build a foundation.
Answer questions where you can.
If people are asking for help/advice and you know the answer you can start jumping into their comments but only if you genuinely know the answer.
If you don't, it's best to leave it or maybe you can send them a link to an article that helps them out because if you want to be trusted, you've got to be honest and genuine.
Definitely don't point anyone in the wrong direction!
Remember, be sure to share how you are doing with your peers as you get going on your journey, especially the people who point you in the right direction.
Through helping out others you will automatically cultivate new connections and relationships.
The key thing is to give if you're constantly commenting "Listen to my track!", "Listen to the latest song I've dropped!", it's just taking which no-one cares about.
It's about building a relationship.
Once you have that foundation you can start tying your music into the conversation.
Opportunities and relationships that are built on a mutual benefit also tend to last longer.
Find pages specifically targeting people from the music world.
Coast2Coast, for example, is one for any hip hop heads out there.
All of the comments, likes, followers, etc will be artists, so you should start finding pages like this and directly reaching out to those people.
Send a direct message to 5-10 artists, be as honest as possible with them, maybe tell them that you're looking for some advice and ask them if they could share some tips and tricks with you – there's a high chance at least a couple of them will contact you back.
Keep in contact with those that do come back to you after, there's nothing quite like the quality of being thankful, readiness to show appreciation for another and to return kindness.
Tell them the outcome of what they shared with you and how you implemented it into your strategy.
Big Sean made sure that he reached out to Kanye West which led to his big break on Kanye West's mixtape 'Can't Tell Me Nothing'.
Now you might be saying, well hang on! That happened face-to-face!
But remember there's always the possibility of getting an invite to that workshop, festival, concert, event or even radio interview once you've built the connection through the online world.
Networking and connecting on social media is definitely something you should be constantly doing, but if you want to take the relationships you create to the next level, you will need to meet people in person.
In fact, talking face-to-face is probably the best way to connect with people and build relationships.
But let's get back to talking about the online world seeing as it's 2020….
When it comes to social media, look at the already successful music artists of the world and basically replicate whatever it is they are doing.
Check out their Facebook, Instagram and Twitter pages and see what kind of content they are sharing.
Many profiles are specifically designed for artists click here to see an example.
You can use a grid app if you want to make your Instagram page a bit more aesthetically appealing as some artists do; click here to see what we mean or just look at the image below.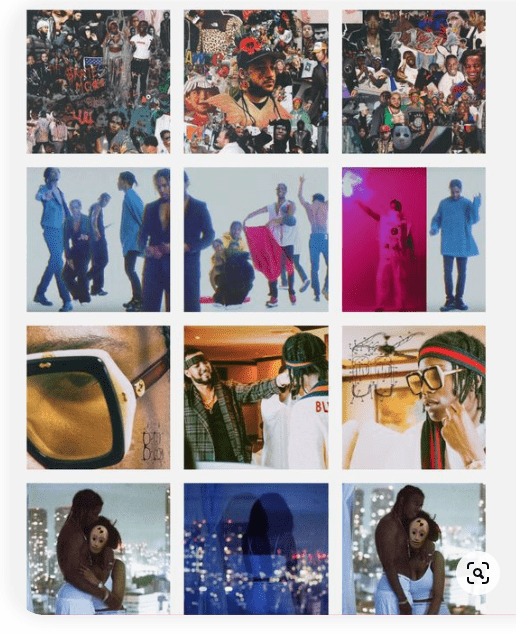 In the past five years, video content has seen tremendous growth.
It's not just YouTube, Facebook has also grown to become a video platform with their redesigned 'Watch' tab.
However, as Facebook's algorithm has evolved over the years, it's become increasingly difficult to get content seen by fans organically.
You have the option to pay for your posts to be seen by more people, but keep all of this in mind as you figure out which platforms you want to invest your time and money in.
OK, all that's left to say now is that it's up to you to go and put the knowledge into action!!!
Put yourself out there!
Go and find those people…don't just pluck names from thin air.
Choose people who are in the field you're interested in or maybe those who are already making music in the same genre, search a hashtag that's relevant or find a music group page.
For example, if you're an R'nB Singer you'd want to connect with other R'n'B Artists, music producers, and bloggers.
Also, try to stick with people who work with artists at a similar career level to you or just above.
One last thing, don't just copy and paste the same message over and over again to different people, because it will be obvious and rather embarrassing if say those two people ended up knowing each other and ever had that conversation about you!
Reach out and talk/type to the person as if you were having an actual conversation with them sat in front of you!
Maybe look through their profile first and start a discussion on something that they shared recently or say something about a recent post of theirs, or some content they've made that you appreciate, you could even reply to one of their stories!
These are good ice-breakers but make sure you don't forget to be upfront and direct about why you're actually getting touch, you could leave that for the second interaction but don't fear being up-front with people.
Honesty is the best policy!
Everyone has got to start somewhere so don't be afraid to start that conversation and see where it gets you!
Additionally in the meantime don't forget to keep creating awesome music and sharing it with the world!
Good Luck from The Team at Indiy!