For some artists, the task of gaining exposure can be a daunting one. You might be saying to yourself, "I want to promote my music but I don't know much about marketing. Moreover, I'm not willing to break the bank to find out. So, where do I start?"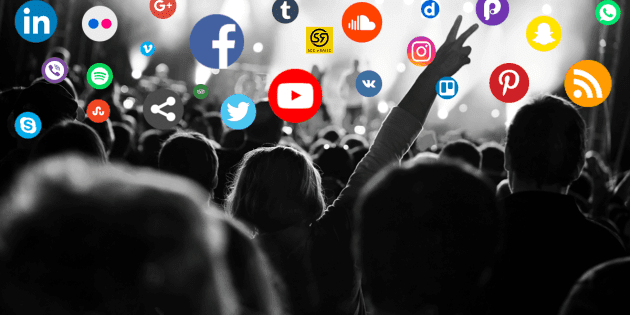 Well, you're certainly not alone! Granted, with so many different platforms and tools out there, it's hard to know where to focus your efforts. Above all, the majority of your attention should always go towards getting music projects finished and honing your craft.
Keep reading if you want to learn how to promote your music with no money.
Where can you upload music for free?
SoundCloud
SoundCloud is a great platform for the do it yourself musician. It provides a massive community with 175 million registered users and IT'S FREE! This music promotion service lets artists upload their music and find new sources of inspiration, all while promoting their work. It's especially great for networking and collaborating with other artists within your niche. This will give you the chance to build connections with more established musicians.
SoundCloud even allows artists to receive feedback on their tracks, playlists, and individual songs. Listeners can provide timed highlight and comments within your song's timeline. The exchange between artists and listeners personalizes the musical experience and elevates your chance to build a core fan base. This is an affordable way to grow your following without waiting for an opportunity to make new fans.
If you want to take your marketing strategy up a notch, SoundCloud Premier offers various ways to monetize your music. According to Lisa Ellis, SoundCloud Global Head of Music, "If you make quality music that's uniquely yours… it's just a matter of time before you're getting noticed."
YouTube
YouTube is also a free platform to showcase your musical talent in a video setting. Many artists have talent but fail to reach their star potential by not using video content. Don't pass up the chance to highlight your personality to increase your following! Uploading a song cover or acoustic performance can increase your media presence, helping you reach a broader audience.
YouTube will give you more range to share your musical insights such as: acoustic performances, lyric breakdowns, music production, mixing process and music videos. It is important to note that video content is a shared experience. Therefore, it should be both appealing and authentic for people to embrace your material. Be considerate of people's time and produce quality content. You don't even need to have the greatest video equipment. Smart phones can give you a decent start on recording your musical journey.
TikTok
Finally, we have to give an honorable mention to TikTok. The fastest growing social media app is the perfect platform for creating ultra-short content. The max time allotted is 60 seconds. You can utilize comedy, dancing, and performance spotlights for concise music promotion. TikTok can help you gain exposure without a limitation on the direction of your creative interests.
Being fairly new, this platform allows creators to experiment with humorous and unconventional styles to amass an audience. If you obtain the minimum of 1,000 followers, you are granted access to Live. This feature gives content creators the opportunity to have real time conversations with their followers. Potential followers can join the chat as well!
You can organize a schedule to make the engagement more interesting with games, Q&A's, etc. Interactions within the Live feature lend you the freedom to connect with potential supporters.
Promote Your Music Using Artwork
Another great way to help you stand out from the crowd is with some attention-grabbing artwork. If you think of album art as being exclusive to vinyl or outdated, think again! Visuals and audio go hand-in-hand to draw in listeners and tell a story. In other words, great artwork is an essential part of music promotion.
Canva is a graphic design platform, used to create social media graphics, presentations, posters, documents and other visual content. The simple user interface makes it easy to make high quality graphics. Plus, you can choose from hundreds of different templates.
You don't need to be a graphic designer to create amazing art. However, if you're still not too confident in your skills, consider hiring a reasonably priced graphic artist.
Promote Yourself using Interviews
We've all likely watched a celebrity interview at some point. Whether to learn more about them and their projects or maybe to witness them totally destroying disrespectful interviewers. (Those are always entertaining). Whatever the reason, it's true that interviews are a great way to promote your music and connect with your fans.
There are several ways you could going about securing an interview. Podcasts, free interviews with Spotlight, or even interviewing yourself are all great options!
Promote Your Music on a Popular Playlist
I've stumbled upon many of my favorite artists and tracks by listening to genre-specific or mood-specific playlists on Spotify such as, Hard Rock Playlist or Feeling Myself. This is a great way to get discovered by potential fans and direct them to more of your content. Visit this Indiy Playlist Platform if you want to submit your work free of charge and connect with other musicians.
Promote Your Music Through Blogs
Closing out our list, we recommend promoting your music on blogs. This can be done on your own website or with the help of a music promotion service. Hiring an industry professional to ensure that your music gets proper exposure is a fantastic investment. This is especially true if you feel overwhelmed to the point of burnout. Don't throw in the towel just yet. Depending on budget, Indiy's industry professionals will provide you with music blog promotion, press releases, and even full-fledged campaigns.
How to Promote Your Music With No Money Recap
In conclusion, by utilizing some or all of these techniques, you'll start to see an increasing amount of opportunity for exposure. To promote your music successfully on your own, it helps to exhaust every resource and be consistent. Don't be afraid to experiment with which platforms work best for you. Most importantly, stay true to yourself, your sound, and your vision.
Let us know if you found any of these tips helpful or if any other techniques have worked for you!