What is Print Music and What Are Print Rights?
Songwriting income can come from a number of sources. Here we're gonna give you the rundown on print music royalties…
Before we begin you should first know that there are four royalty types that you should be aware of:
Master-generated – (also known as recording royalties) are typically paid in addition to synchronization or public performance royalties, as royalties paid to the publisher only grant the rights to the use of a song, not a specific recording of a song.
Mechanical – paid to a songwriter whenever a copy of one of their songs is made. For instance, when a record label presses a CD of your song, you are due a mechanical royalty.
Public Performance – paid whenever music is performed publicly live or a recorded copy.
Synchronization – paid to songwriters and publishers for the use of a song as background music for a movie, TV show, or commercial. Sync royalties are one of the few music revenue streams that reward the songwriter and recording artist equally.
And then there's Print Music Royalties!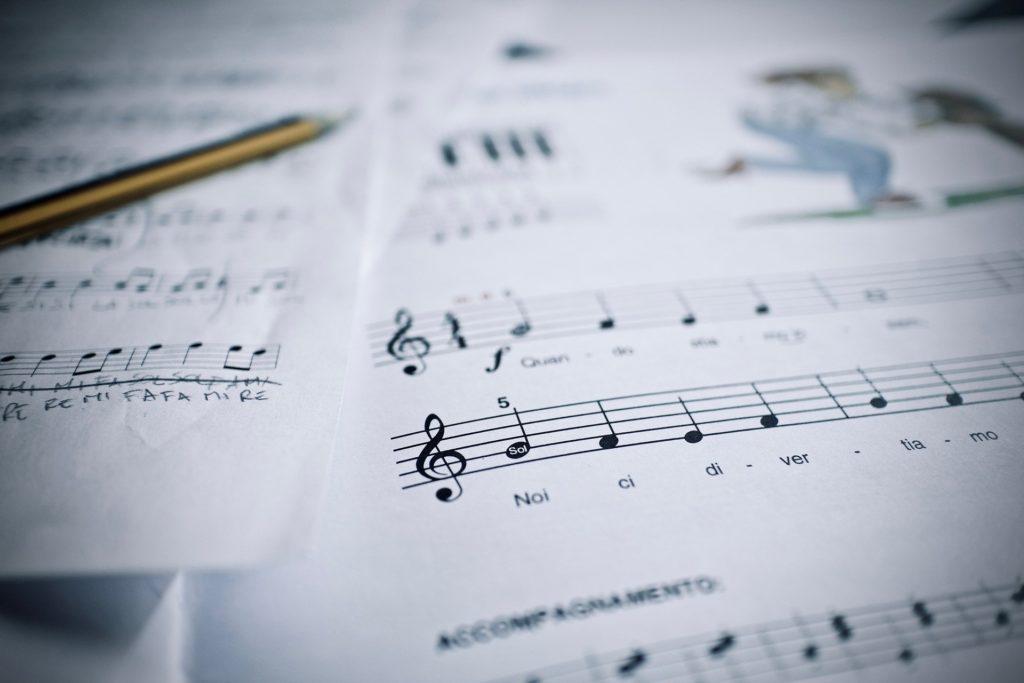 Print music royalties are an income revenue paid by music printers to whoever granted them a print music license. This is usually a music publisher.
"Printed Music" or "Print Rights" are used in reference to sheet music. Sheet music is the printed music of a single song with notes, arrangement, lyrics, chords, and other annotations used by composers to communicate information about the piece of music."
– The Modern Musician
Print royalties are paid for sheet music and folios.

The royalties are generated based on the exclusive right to distribute copies of the copyrighted material.

A print right is the license agreement between a copyright owner (usually a music publisher) and the user of the copyright.

It grants permission to rearrange, display, and print the sheet music, notes or lyrics of a song – Even the smallest usage requires a print license.
In the U.S.A, print licenses are usually non-exclusive and limited to three to five years in duration.

Sheet music of a single-song, pay publishers around 20% of the marked retail price so at a retail price of £3.50 roughly 70p would go to the publisher.

Royalties for folios (a catalogue of a collection of songs) are paid at around 10% to 12% of the marked retail price.

A successful musician should be entitled to acquire income from all forms of royalties however this often isn't the case as print royalties, like many of the other royalty types are mostly always collected by music publishers on behalf of their songwriters.

Check out this paragraph from Dick Weissman's book 'Understanding the Music Business'…
As publishers look for new ways to make money from the songs they control, we may find that the print music royalty will end up having more importance.

In 2002, Robert Burnett wrote in his book The Global Jukebox: The International Music Industry, according to the music industry, print music revenues were $415 million with The US accounting for 35% of the total worldwide. Which breaks down to $167 million in print royalties in the US alone!!!

Now when it comes to Religious music (or sacred music), churches do not need a performance license to play or perform copyrighted music during worship service – Churches qualify for an important exemption in the U.S. Copyright Law (section 110[3]).

However, Print Music Royalties and licensing still do exist, even in the world of spirituality, Dick Weissman explains:
Maybe Kanye is onto something with his Sunday Service!!!
Check out this article by Chris Huff on 'Behind the Mixer' for more info on playing church music and licensing in the world of religion and music to avoid copyright infringement!

If it's music business you want to know more about you can read one of our other articles by simply clicking here.

Thanks for Reading and Good Luck on Your Music Journey ✌️