In recent years, streaming services like Spotify have become increasingly popular. However, a new study has found that a majority of Spotify artists have very few monthly listeners. About 80% of Spotify artists have less than 50 monthly listeners to be precise!
That becomes even more staggering when compared to the top 1% of artists who have over 500,000 monthly listeners. It's a clear indication of the huge discrepancy in popularity between Spotify's most and least popular artists.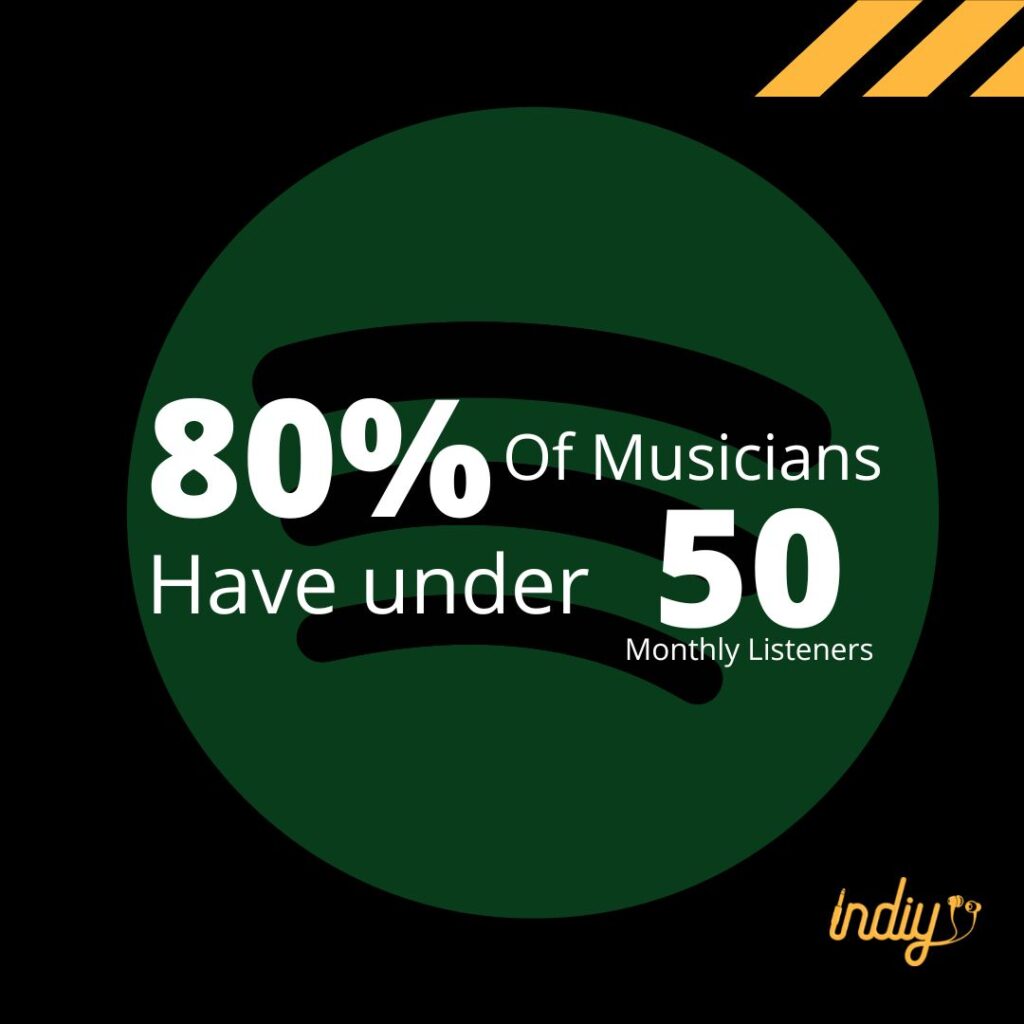 The majority of Spotify artists have less than 50 monthly listeners
This trend has a major impact on independent artists especially. These artists are struggling to gain traction on the platform. In fact, only 1% of independent artists have more than 1,000 monthly listeners.
The lack of listener engagement is causing many independent artists to give up on their careers altogether. With so much competition, it's becoming increasingly difficult to stand out from the crowd. If this trend continues, it could have a major impact on the future of the music industry.
Platforms that offer one-time or low fees to anyone to distribute music are a big part of the problem. Once they receive your $50 they have no vested interest in your success. In fact, were you to be successful you would cost them over $50. Therefore we see the artists/labels who need the most help are being hung out to dry. This trend comes from some of the biggest players like Distro Kid, TuneCore and CDBaby.
Why this is important: This number indicates that most artists are not very successful on Spotify
If you're an artist, Spotify is a platform you can't afford to ignore. With nearly 200 million users, it's one of the biggest music streaming platforms in the world. It is where the listeners are. Meaning that these numbers are indicative across the board.
So how do you get people to listen to your music on Spotify? The key is to have a plan and a strategy. You need to know who your target audience is and what they're looking for. Once you have that information, you can start promoting your music and getting it in front of the right people.
The Reality Of Being A Spotify Artist
As a musician, you're always thinking about how to get your music in front of more people. You know that you need to release new music. You need to do it often to keep people engaged. However, you also know that you need to make sure your existing catalogue is being played too. It's a delicate balance that can be hard to maintain.
You're always trying to figure out what the algorithm wants and how you can give it to them. It's a never-ending cycle of creating and promoting new music. Whilst also making sure your older songs are still getting some love. It's a lot of work, but it's worth it when you see your songs climbing the charts.
It can be tough being a Spotify artist, but it's also very rewarding. You get to see your music reach new audiences and connect with people from all over the world.
Spotify artists struggling to find an audience – Less than 50 monthly listeners
The music business is always changing, and Spotify is at the forefront of that change. Artists need to adapt if they want to find success. One way to do that is by learning the music business and understanding how it works.
Another way for artists to find success is by learning about marketing. Marketing yourself as an artist can be difficult, but it's important if you want people to hear your music. You need to create a brand and an identity that people will recognise and connect with.
Finally, artists should look to successful musicians for inspiration. See what they're doing right and try to emulate their success.
How to win on Spotify – It starts with Good Music
If you're looking to win on Spotify, it starts with good music. A great product is important, but the music is what will really set you apart. That's why the importance of A&R can't be overstated.
A&R stands for Artist & Repertoire. It's the department responsible for finding and developing new artists, as well as managing their catalogues. In other words, A&R is in charge of finding and nurturing talent.
Here at Indiy if you want to distribute your music. Get in touch with our A&R team. They will be happy to give you feedback. In some cases, we can wave our initial distribution fees!
Promote your music – build connections
In the music industry, it's all about who you know. By building connections with other artists, managers, and promoters, you open up opportunities for your music to be heard. But it's not just about networking – it's about building meaningful relationships that will help you grow as an artist. Nobody likes a spammer, a me me me person!
A strong network can provide support and advice. Introduce you to new opportunities, and help you build a community around your music. So how do you go about building these important connections?
Here are a few tips:
Get involved in your local music scene. Go to shows, meet other musicians, and get involved in the community.
Attend industry events and conferences. This is a great way to meet people working in the music industry and learn about new opportunities.
Use social media to connect with other artists and industry professionals.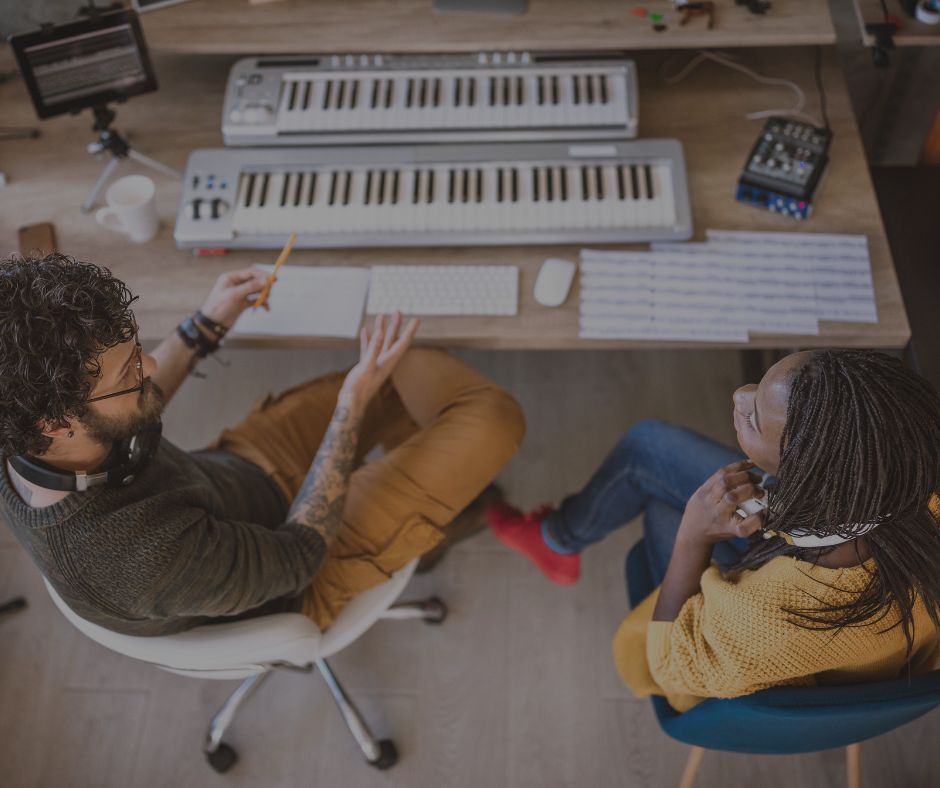 Keep releasing Music – Build your catalogue
As a musician, it is important to keep releasing music. By doing this, you are building your catalogue which is valuable. The more music you release, the more chances you have of people liking it and becoming fans.
Musician Russ has been consistent with releasing new music and as a result, has built a large fan base. Russ understands that the key to success is giving people what they want. By releasing new music on a regular basis, he keeps his fans happy and engaged.
If you're not consistently releasing new music, your fans will forget about you. Keep them engaged by releasing new music often and building your catalogue in the process.
Wrap Up – About 80% of Spotify artists have less than 50 monthly listeners
In conclusion, if you're an artist on Spotify with less than 50 monthly listeners, don't despair.
There are a number of ways to get people to listen to your music.
First, make sure your music is good.
Second, promote your music on social media and other online platforms.
Finally, keep putting out new music and don't give up.
Stay realistic and take action where you can. Done is better than perfect. With a little bit of effort, you can turn those 50 listeners into 500 in no time.