If you're someone who's involved in the music creation process or has already released a track before, then you may have heard of DistroKid!

And if not, now you have right!?
Perhaps, you're here to learn all about it so we'll assume for a moment that you're a DistroKid dummy!

That it's brand new to you!

But by the time you've finished reading, you'll be a DistroKid Pro!

And know all there is to know about this music distribution service!
Need to get your next release on Spotify, Apple Music, Youtube Music + Many more – CLICK HERE
What is DistroKid?
DistroKid is an independent digital music distribution site.

They get your music into online stores and onto streaming platforms.

It was founded in 2013 by American entrepreneur Philip J. "Pud" Kaplan, almost a decade after its main competitors TuneCore and CD Baby.

DistroKid distributes to platforms such as Spotify, iTunes, Pandora, and basically all kinds of different digital stores for a fee as low as 20 dollars a year!

They do offer the option of an upgraded account, which will cost you $35 for the whole year (which is worth it!) and we'll explain why as we delve further into the article…

However, if the $20 a year account is what your budget allows for, it's a great option too!

And it will still enable you to get your music out there.

Even TuneCore's founder, Jeff Price, admitted "As the founder of TuneCore I hate to say it but DistroKid is the single best music distribution company in the world. Light years ahead of CD Baby and TuneCore and far less expensive."
DistroKid is the only music distribution service that lets you upload unlimited music to multiple stores for one low price.

FYI, they do not offer physical distribution, in comparison to CD Baby, DistroKid is all digital!

And in case you're wondering about your music videos, you will also have to look elsewhere for the distribution of those, as they only distribute albums and singles.
What does Distrokid have to offer?
Just like anything, DistroKid has its pros and cons…

Firstly let's mention its costs…
DistroKid Pricing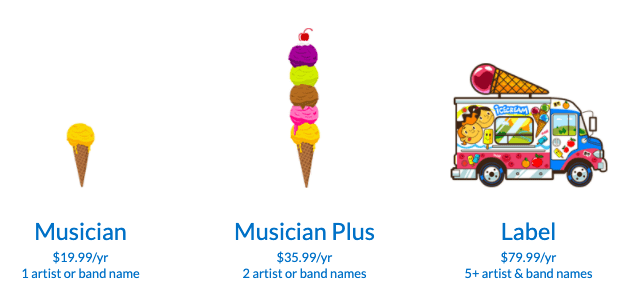 DistroKid offers multiple price plans, ranging from plans for a single artist or band to label plans for up to 100 artists!

The most basic plan charges $19.99 per year for unlimited digital distribution!

But bear in mind that you have to pay it annually to keep your music out there…

Unless you opt for the 'Leave a Legacy' option which we'll cover a little further down.
Need to get your next release on Spotify, Apple Music, Youtube Music + Many more – CLICK HERE
What's better price-wise? DistroKid, TuneCore or CD Baby?
Well for $19.99 for the whole year, with DistroKid you'll save more than half of what TuneCore charges for a regular annual subscription.

DistroKid is unlimited, whereas TuneCore is per-album.

And in comparison to CD Baby – who charges $9.95 per single or $29.00 per album, Tunecore has a fee of $9.99 per single yearly, $29.99 per album for the first year, and $49.99 for each following year.

So if your plan is to release and upload 5 albums…

With TuneCore, you would end up paying $149.95 year-one, then $249.95 per year forever, whereas DistroKid would charge you only $19.99 per year.

Now, it's also worth considering that with CD Baby, after paying the one-time fee, you will never have to pay again…your music will stay on the platform forever.

Comparatively, although DistroKid allows you to upload unlimited music…

You will need to opt-in to 'Leave a Legacy' costing you an additional $29 one-time fee, to ensure that your music will never be removed from DistroKid, even if you die.

CD Baby may be cheaper in respect to the short term, but if you are an artist who consistently releases music, DistroKid is a better option.
DistroKid Musician Plus Plan – Why Upgrade?
If you can afford to get on board the $35.99 upgraded account, you have the ability to choose whatever release date you want, so you can specify exactly when you want to release your music.

The basic $19.99 annual cost doesn't allow access to this.

Another perk that's available with the upgraded account is the pre-order option…

Meaning that if you want people to be able to purchase your music before it's released, you'll need to get the $35.99 upgraded account so that your fans can pre-order.

Another thing you can do on the upgraded account is you can choose a custom price for iTunes and Google Play and Amazon – The options are 69 cents, 99 cents, or a dollar twenty-nine cents.

So with the 'Musician Plus' plan, you get the extras, like the customizable pricing, pre-order date, the release date, and also a customizable label name.
Need to get your next release on Spotify, Apple Music, Youtube Music + Many more – CLICK HERE
What is DistroKids Store Maximizer?
For an additional $7.95 annually, with Maximizer, DistroKid will automatically deliver your song to new online stores and streaming services as they're added to their network.

Which apparently (as stated on their site) is often!

And they will give you notice before adding.
Leave a Legacy
Leave a legacy is a $29 one-time fee, it never recurs, it is just a one-time thing, and then it goes on forever.

Obviously, if your membership expires, or something crazy happens like you pass away!…

Then basically you're going to be guaranteed to accrue all the royalties forever and you don't have to worry about it.
YouTube Content ID
DistroKid lets you easily add your music to YouTube Music – just select "YouTube Music" on DistroKid's upload form.

YouTube Money is a paid, opt-in feature where you will get notified & paid if your music is ever used in any YouTube videos.

When YouTube detects your music in a video, monetisation will be turned on for that video, you'll be notified, and ad revenue will automatically go to you, instead of to the person who uploaded the video.

To opt-in and purchase YouTube Content ID, it will cost you $4.95 per single a year, or $14.95 per album per year, + 20% of YouTube ad revenue.

Watch YouTube's video explaining Content ID to understand more about it.
HyperFollow
What is HyperFollow?…HyperFollow is a completely free promotional tool that is available for all DistroKid artists.

These days, it's a must to have one link that leads to your music on all streaming services, and that's where HyperFollow comes in!

A single page that links to all your online music content.

And with this tool, Distrokid automatically emails your fans when your latest release goes live.
Instant Spotify For Artists Access & Verified Checkmark
DistroKid artists get instant access to Spotify for Artists.

This includes a blue verification checkmark!
DistroKid does not take any ownership or intellectual property rights from artists. You keep 100% ownership.
One important mandatory checkbox which you'll see whilst going through the site in preparation to release your music is the:

"I recorded this music and I'm authorized to sell it in stores worldwide and collect all royalties" box.

By checking this you are stating "I'm not using any other artist's name in my song, titles, or album title without their approval".

If there are any co-writers you should ensure that you have a split sheet, where all parties are in agreement about the release – DistroKid will send them an email upon your data input.

And they will handle automatic "splits" so you can pay your collaborators with ease.

One other really important thing is that they also cover is song licensing.

Ensure you read through everything thoroughly before agreeing to the terms and conditions.

You can find their Terms of Service & Distribution Agreement, here:
How Does DistroKid Work?
DistroKid will send you a monthly cheque with 100 percent of the royalties you're owed from online music sales and streaming.

Once you've done the basic thing of signing up to DistroKid…

The next step will be to upload your music, which you're planning on releasing soon, to them.

Here is where you're going to be selecting the stores that you want your music to be put in.

Digital stores like Spotify, Apple Music, iTunes, Google Play, and YouTube Music…

On DistroKid you can also now get into Snapchat and Tik-Tok which is really cool!

You can even choose to get your music into Instagram and Facebook, for free, you know where people add your music on Instagram to their stories?

Just select the "Instagram & Facebook" checkbox when uploading your music to DistroKid.

You can click here to read DistroKid's full list on "What Streaming Services Will My Music Appear In?"
If you're an artist that isn't releasing music regularly…

You might be better off choosing a distributor with whom you pay per release, such as Soundrop.

As the small one-off, one-time additional payments do eventually add up!

Be sure to do the math to see what is best for you before you just dive in!

As far as putting your song out goes…

You're going to want to ensure that your sound is the best it can possibly be.
Need to get your next release on Spotify, Apple Music, Youtube Music + Many more – CLICK HERE
How to ensure my track is ready for release on DistroKid?
Distrokid allows up to 24-bit depth (96k) and the artwork dimensions are 3000 by 3000.

Make sure your artwork isn't blurry at all, as the stores will reject it if it's blurry.

We don't recommend going with mp3 because that is a lower quality audio file. – Here are 7 popular audio file types to consider.

With TikTok, Apple Music, and iTunes (all on DistroKid's distribution list) you decide where your audience will preview your music.

And if you want, you can specify exactly the good parts that you want to show off in the preview…

Try to pick where the beat drops, or your best high note, where the chorus is, or something like that…

As you'll want potential fans to hear the best of you and get what you're about right away.

You have to make sure that you're following all of the rules or your music can get rejected from stores.

Another thing that you have to declare is whether your music has any explicit lyrics in it or not.

For example, are there any curse words in the song? If yes, make sure you're honest. If not, then put 'no' where it asks you.

You have to make sure that you're following all of the rules or your music can get rejected from stores.

Finally, to make sure your music is released exactly on the date you pick, give everything to DistroKid four weeks in advance to allow them to have it transferred to the store in good time.

If you already have a Distrokid account, that's great! Obviously, you're ready to go get started right away…

But if you don't have a Distrokid account, fear not!